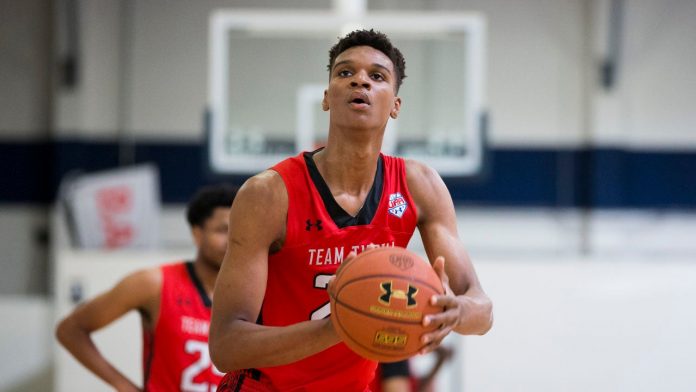 Recruit Roundup will highlight the various high school hoopers who have made their college decisions. There is so much going on in the world of recruiting, that it can be so hard to follow. Not anymore. Check in with us and catch up on all of the multitude of players committing to NCAA D1 universities. This is the past week in commitments.
Keshawn Williams (6'1″/PG/Chicago Heights, IL) – Tulsa
Godsgift Ezedinma (6'7″/PF/Sulphur Springs, TX) – Incarnate Word
Efemena Abogidi (6'10″/C/Nigeria) – Washington State
Johnathan DeJurnett (6'7″/PF/Memphis, TN) – Evansville
Bryce Johnson ( 6'7″/SF/Stockton, CA) – Sacred Heart
Tristan Maxwell (6'2″/SG/Huntersville, NC) – Georgia Tech
Kris Murray (6'8″/SF/Cedar Rapids, IA) – Iowa
Keegan Murray (6'8″/SF/Cedar Rapids, IA) – Iowa
RJ Davis (6'1″/PG/White Plains, NY) – North Carolina
Samuel Mennenga (6'8″/PF/Auckland, New Zealand) – Davidson
Owen Spencer (6'9″/C/Cincinnati, OH) – The Citadel
Tony Perkins (6'4″/SG/Indianapolis, IN) – Iowa
D'Andre Davis (6'5″/Guard/Indianapolis, IN) – Louisville
Evan Joyner (6'8″/SF/ Browns Summit, NC) – North Carolina A&T
Lawrence Foreman (6'9″/PF/Kingston, Jamaica) – Rider
LaDamien Bradford (6'4″/SG/Jonesboro, LA) – Texas A&M
Ja'Von Benson (6'8″/PF/Columbia, SC) – South Carolina
John Hugley IV (6'8″/PF/Lyndhurst, OH) – Pittsburgh
Quintin Metcalf (6'8″/PF/Seoul, South Korea) – St. Bonaventure
Hassan Diarra (6'3″/PG/Flushing, NY) – Texas A&M
Javohn Garcia (6'2″/SG/Pickerington, OH) – Massachusetts
Isaiah Todd (6'10″/PF/Raleigh, NC) – Michigan
As a consensus Top 15 player in the 2020 recruiting class, Todd chose head coach Juwan Howard and the Michigan Wolverines over the Kansas Jayhawks.
Eric Butler (6'3″/PG/Orlando, FL) – Southern Illinois
Javonte Johnson (6'5″/SF/Colorado Springs, CO) – New Mexico
Bryce Monroe (5'10″/PG/San Francisco, CA) – Sam Houston State
Gethro Muscadin (6'10″/C/Gonaives, Haiti) – Kansas
Chance McMillan (6'3″/PG/Vallejo, CA) – Grand Canyon
Kyndall Davis (6'6″/SF/Chicago, IL) – LIU Brooklyn
Ryan Evans (6'3″/SG/Rancho Santa Margarita, CA) – Cal Poly
Cameron Steele (6'7″/Forward/Minnetonka, MN) – Abilene Christian
Max Amadasun (6'10″/C/Dublin, Ireland) – Pittsburgh
Marques Warrick (6'3″/SG/Lexington, KY) – Northern Kentucky
Isaiah Johnson (6'6″/SF/Irvine, CA) – Oregon State
Chris Biekeu (6'7″/PF/Montreal, Canada) – Towson
Scottie Barnes (6'8″/Forward/West Palm Beach, FL) – Florida State
Jamal Mashburn, Jr. (6'2″/PG/Miami, FL) Minnesota
The son of former NBA star Jamal Mashburn is headed to Richard Pitino's Minnesota Golden Gophers. He will team up with, 6'10" underrated big man Matrice Mitchell to form a solid 2020 recruiting class.
Kaleim Taylor (6'3″/PG/Milwaukee, WI) – Milwaukee
Quincy Ademokoya (6'5″/SF/Lawrenceville, GA) – Temple
John Thomas Tan (6'8″/PF/San Pedro, CA) – Lehigh
Garvin Clarke (6'0″/PG/Euclid, OH) – Akron
Davonte Davis (6'4″/PG/Jacksonville, AR) – Arkansas
Alex Huibregtse (6'3″/SG/Grafton, WI) – Wright State