How does that old Meatloaf song go…"two out of three ain't bad"? That is exactly what I did this past weekend in my Four Points of a Triangle – Week 6 predictions. However, much to my surprise, the one game that I thought for sure I would get right, I got completely wrong. That prediction being North Carolina over Florida State. I felt so sure that the Tar Heels would win, especially in front of their home crowd. The more I watch of the Tar Heels in 2021, the less I know about them. I also felt pretty confident that the Demon Deacons would take it to Syracuse. While Wake did get the win, I never expected or even remotely thought, that they would need overtime to do it. Last but not least, the game from last week that felt the least confident in was probably the easiest win of the week for me, Georgia Tech over Duke. Duke held in there but playing from behind for almost the whole game eventually caught up to them in the end.
Well you are only as good as what you did today, not yesterday. So let me get my crystal ball and see what is says for week 7 of ACC action…
---
For those who want to see, here was @StanCottenWF and @LarySorensen with the final call of the game. Cool new feature over on Facebook as A.T. Perry had the entire @WakeRadioNet jumping out of their chairs for that TD. pic.twitter.com/AVSgvsIUum

— Price Blissit (@DeacPB) October 10, 2021
#16 Wake Forest – Bye
With a dramatic overtime win at the Carrier Dome, Wake Forest remains perfect on the season and is already bowl eligible. Wake Forest truly sits in the catbird sit within the ACC, and right now is heavily favored to make the ACC Championship game. One clear advantage that the Demon Deacons have over the rest of the conference is that just six games into the season they are 4-0 in conference play, and their closes competition in either division is 1-0 (NC State, Pittsburgh and Virginia Tech). They have a three game leg up on the rest of the conference right now. However, don't be fooled. The second half of their schedule gets a lot more difficult. With games remaining against Army, Duke, North Carolina, NC State, Clemson and Boston College, it is by no means time to take your foot off the gas if you are the Demon Deacons. Wake should enjoy where they stand right now over the bye week, but look for the Deacs to come out firing next week against Army and to make a push for being ranked in the Top 10.
---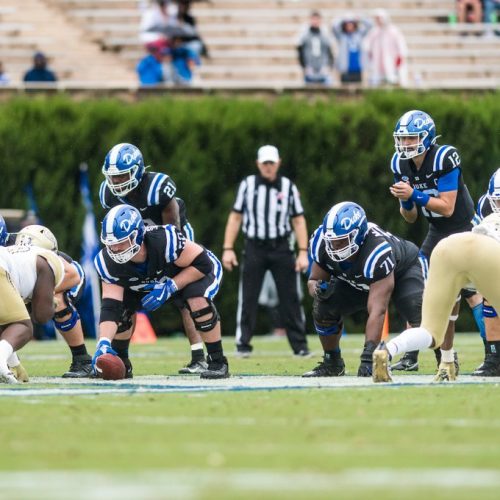 Duke @ Virginia (Saturday Oct. 16th – 12:30pm)
If you like points, then this one is probably for you. Both Duke and Virginia are averaging over 30 points a game and nearly 500 yards of offense a game, if not more. So who wins a shootout type game like this? For me that's easy. Give me the team that has the better quarterback and the less conservative head coach. The answer to both of those being Virginia. Oh, and they are playing at home, too. UVA QB Brennan Armstrong has already thrown for almost 2,500 yards with 17 TDs and 4 INTs. Some quarterbacks would pray for those stats 75% into a season, not even thinking about them at the midway point. Also, Virginia is coached by Bronco Mendenhall who can be a gambler at times and is way less conservative in his game planning than Duke Head coach David Cutcliffe.
At some point in this contest there will probably be a point, for both teams, to take on chance and roll the dice or play it lose to the vest. If I had to pick which coach will do what, I feel pretty confident that Mendenhall will roll the dice while Cutcliffe plays it close to the vest. Now, don't get me wrong. I like Cutcliffe. He is stand-up guy. But he isn't going to win you a football game in an unconventional way. This one will be closer than the current point spread, 10 to 12 points favoring UVA depending on where you look. But whether you win by 1 or 81, a win is a win. Give me the Wahoos at home.
Prediction: VIrginia 34, Duke 26

---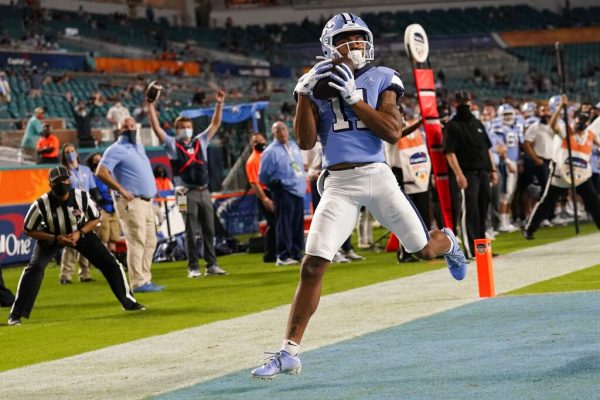 Miami @ North Carolina (Saturday Oct. 16th – 3:30pm)
Have you ever seen that old Spiderman meme where the two Spidermen are identical and point at each other? I'm sure you have. Well, that is the mental image I get when Miami meets North Carolina this Saturday. I can see both teams "Spiderman" point at the other and yelling "You are supposed be good?!" while the other says "No! You are supposed to be good!?". Neither of these teams have lived up to their preseason hype and both hope to salvage the season by making it do a decently prominent bowl game at season's end. However, that idea of "saving" the season doesn't happen if you don't win this game. So in essence this is a bigger game to both teams than it may seem to us fans. But who can you trust more in this one? I honestly don't know the answer to that one and no stat is going to make me trust the Tar Heels or Hurricanes any more than I already do, or lack thereof. For me it comes down to this… North Carolina is playing at home with Sam Howell under center while Miami is playing on the road without D'Eriq King under center. That is all I need to know. Heels win it by a slim margin.
Prediction: North Carolina 24, Miami 20

---
#22 NC State @ Boston College (Saturday Oct. 16th – 7:30pm)
The last time NC State traveled to Chestnut Hill was in 2019… I was there… it wasn't pretty. NC State allowed BC running backs AJ Dillion and David Bailey to rush for 404 yards and 5 touchdowns. Yup, you read that right…404 yards and 5 touchdowns. But this is 2021 and Dillion and Bailey are no longer there for NC State to worry about.
The Wolfpack come into this one ranked and as a slight three point road favorite. Historically, under head coach Dave Doeren, when NC State is ranked and goes on the road (favorite or non-favorite), they do not perform very well. Coach Doeren and the Wolfpack have had six games on the road in his tenure as a ranked team, in those six games they are 1-5. Doesn't matter if they were playing another ranked team or just anyone else, they are still 1-5 when ranked on the road. That is all I need to know. I will believe it when I see it and man-oh-man I sure hope NC State can make a believer out of me on Saturday. But until then, I am going go with history and the numbers and a BC win.
Prediction: Boston College 31, NC State 29

---
It is a home cookin' kinda weekend for the Four Points of a Triangle Predictions by picking all of the home teams to come out victorious. :Deep sigh: We'll see next week how this ages. Until then enjoy this weekend's games!
Follow me on Twitter at @SJWoolard for more ACC content and Week 8 predictions next  week. Also, I made my debut on the Pypeline ACC Podcast this week where we broke down the games and looked at the four teams' long term futures. Check it out!