Wow! What a weekend of college football we just had, especially in the ACC. If I were going to get any predictions wrong based on last week's Four Points of a Triangle piece, I thought for sure it would be my NC State over Clemson prediction. Also if there was a game that I had to call my "lock" of last week it would have been North Carolina over Georgia Tech. Well, as I am sure you are aware of, it turns out that my logic was completely backwards. NC State got the Clemson monkey off their back, finally, by beating the Tigers in a 2OT thriller while the Yellow Jackets ran all over the Tar Heels en route to a surprising 23 point victory.
Also, I can't forgot about Duke who finally snuffed out Kansas after letting the Jayhawks hang around for much of the first half. Duke is becoming a good team, not great, but a loss at home to Kansas would force all of that growth to take a big step backward. So I am glad that didn't happen for the Blue Devils. Last but not least, I must apologize to the Demon Deacon faithful for not believing in them on the road last week at Virginia. From the start, Wake jumped all over the Cavaliers and never looked back. Wake Forest is a for real football team, that can win a multiple ways, and should be taken seriously by all comers. In the end I went 2-2 based on last week's predictions bring my overall season tally to 10-6.
Let's see if I can span the gap between wins and losses in Week 5 of Four Points of a Triangle, which will feature our very first inter-triangle match-up of the season. To the predictions we go…
---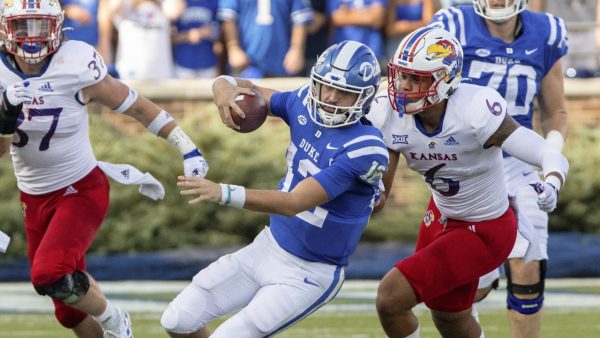 Duke @ North Carolina (Saturday Oct. 2nd – 12pm)
It seems a little early in the year to be talking about the Battle of the Blues, but yet here we are. This one is an interesting match-up on paper and honestly hard for me to predict. Who would have thought that coming into this game that Duke would be 3-1 and UNC would be 2-2? Not many. I won't go as far as to say that these two teams are headed in different directions, but both teams came into this season with vastly different goals (Duke – looking for a winning season and making a bowl game, UNC – hoping for an ACC title run and potentially even a CFP run) and already just four games into the year some of those goals are close to being met while others have squandered away. Regardless, the question remains of how will this game be won and by whom.
Well, lets start at the most obvious: quarterback play. Both UNC QB Sam Howell and Duke QB Gunnar Holmberg are playing really well right now. Yes, I know Howell is not the Heisman candidate we all thought he was going to be, but the two UNC losses cannot be placed squarely on his shoulders. Howell has thrown for 1,100 yards already and has a touchdown to interception ratio of 3:1. He is playing just fine. Anyways, both quarterbacks are playing well, but I am going to give the nod to Howell based on his experience and that he will be playing at home in this one. Next, how do the run games compare? I am actually going to give the upper hand to Duke in this category. Duke RB Mateo Durant has been on fire this season. He has rushed for 100+ yards in three of Duke's first four games. Next, lets look at defense. The Tar Heels and Blue Devils both give up between 26 to 30 points a game (and each around 400 yards a game to opponents, really a slight nod to Tar Heels in yards allowed). Either way it is fairly equal on the defensive side of the ball. Lastly, I will give you this quick hitter… this will be UNC's third conference game of the year while it will be Duke's first. The competition usually steps up a bit when you get into conference play so a subtle nod in the Tar Heels directions for this one.
So I gave you all those stats and info on who is better in what category (quarterback: UNC, rushing: Duke, defense: equal, conference play: slight Tar Heel nod) and you can just throw them out the window. None of it means anything. This is a rivalry game where stats on paper and predictive analysis mean squat. This one I am picking from the gut. It will be close at the half but eventually the experience of those in Carolina blue will pull away and lead to a Tar Heel victory.
(P.S. – If there is not a Tar Heel victory in this one…..Hooooooboy!! Is it going to get reeeeeaaaaallllll interesting around Chapel Hill and Mack Brown. Being 2-3 in a season where you had ACC title and CFP aspirations is not going to sit well, but more on that to come…maybe)
Prediction: North Carolina 40, Duke 24

---
Louisville @ #24 Wake Forest (Saturday Oct. 2nd – 12:30pm)
At the start of the year, I never would have guessed that when Wake Forest and Louisville met in Week 5, they would have a combined record of 7-1 and both be undefeated in conference play. Instead of boring you with stats and inside analysis, like I did for the Duke/North Carolina game (sorry for all you statisticians out there, I will try to be better in the future) there is only one thing you must do to win this one. Score! and Score a lot! This will be a shootout of a game with a lot of points put up on the both teams.
Ok I lied, here come some stats. Both the Demon Deacons and Cardinals are averaging over 30 points a game and over 400 yards a game. Now granted both teams also give up over 400 yards too, so the ball will move up and down the field with ease on Saturday. When you have two hot hands to pick from give me the hotter of the two…the Wake Forest Demon Deacons. Louisville has done great thus far this season to be where they are, but they have let opponents like Central Florida and Florida State hang around a little long, and too close, before getting a victory. Meanwhile, Wake Forest has crushed their opponents spirits early and often and left little to any doubt on their way to a win. It may take a last possession score for Wake to win it, but I am going to roll with the Deacs to pull this one out.
Prediction: Wake Forest 37, Louisville 33

---
Louisiana Tech @ #23 NC State (Saturday Oct. 2nd – 6pm)
Before I get into this one, I want to ask everyone a question about the NC State/Clemson game. Did anyone else time warp back to 2016 when Christopher Dunn missed the game-winning field goal and when Justyn Ross scored right away in OT? Hopefully, it was not just me! I felt like a was living a previous game all over again and was suffering form PTSD. If you were going through the same thing, send me a DM, I can empathize.
Ok, back to present day football. While NC State and Wolfpack Nation experienced a monumental victory last week over #9 Clemson, this might be their most important game yet. Hear me out, don't call me crazy before reading my reasoning. If NC State cannot follow up an enormous win with another win, well then that "enormous" victory really doesn't mean all that much, does it? It would be huge for the psyche of the Wolfpack program to head into their bye week with a 4-1 record. But do not think that this Louisiana Tech team is a pushover by any means. The Bulldogs have lost two games by a combined 3 points, both in tragic fashion. First, they blew a 20 point 4th quarter lead to Mississippi State and then a few weeks later they lost to SMU on one of the craziest Hail Mary's you will ever see. The Wolfpack cannot take the Bulldogs lightly. And just based on the way these two teams play I expect this one to be closer than many think. In the end, I think the NCSU running back tandem of Ricky Person Jr. and Zonovan Knight help the Wolfpack sustain long 4th drives and put this one away late.
Prediction: NC State 30, Louisiana Tech 17

---
Follow me on Twitter at @SJWoolard for more ACC content and Week 6 predictions next week.