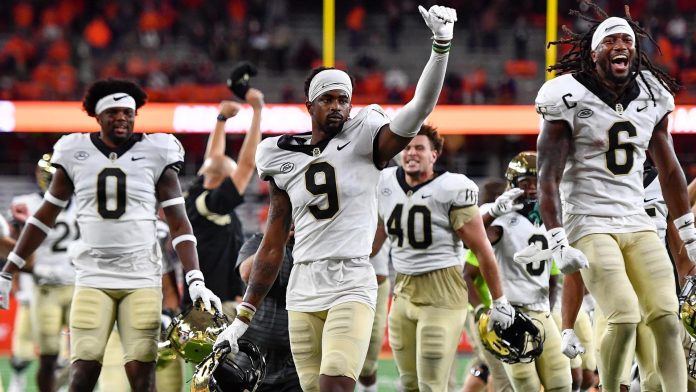 Championship week is finally upon us! Looking back at how wacky and crazy rivalry weekend was, we should be in for another wild ride this weekend. But before we look ahead at the ACC Championship matchup between Pittsburgh and Wake Forest, let's take a look at what happened around the triangle this past Saturday.
As I predicted, Miami destroyed Duke in Durham. The Blue Devils were able keep up with the Hurricanes through the first quarter but after that Miami dominated all three facets of the game. Also as predicted, this was the final game for Duke Head Coach David Cutcliffe. He and the university mutually agreed to part ways after 14 years together. Coach Cutcliffe closed his tenure at Duke with a 77-97 record and 3-3 in bowl games.
In the Wake Forest matchup with Boston College, I predicted with my heart over my head. I knew it was a long shot for the Eagles to pull off the upset, but the flu forced many BC players to not suit up leaving the upset almost impossible to pull off and my prediction falling flat. Much like Duke, Boston College hung around early but a depleted team due to the flu left the Eagles scrambling to keep up with the Deacons potent offense. To no one's surprise, Wake Forest QB Sam Hartman was the star of the show, passing for over 200 yards, 3 touchdowns and was tied with fellow RB Christian Turner for the most rushing yards. The Deacs did accomplish a pretty astonishing feat by winning this game 41-10. In every game this season but one, Wake Forest has scored over 35 points and scored over 40 points nine times. That is the sign of a crazy good offense and literally did not slow down at all this season.
Now onto the big one in the triangle from rivalry weekend….State/Carolina. Early on it looked like the Pack was going to runaway with it, but true to the Tar Heels modus operandi, the Heels stormed back to take the lead in the second half and late in the fourth quarter. Like State fans have seen for decades, across all sports, it looked like they were once again going to be so close but yet so far away. That is when NC State QB Devin Leary and senior WR Emeka Emezie, took over. First it was 64 yard touchdown with a mintue and half left to cut the Tar Heels lead to just two. Then it was the miracle onside kickoff that was recovered near midfield by the Pack. Then it was the Leary to Emezie connection again for 24 yard TD pass to take the lead. The final nail in the Tar Heels coffin was an endzone interception by Pack CB Derrick Pitts Jr. to seal it for State. Here just watch….it is way more interesting than what I described.
Historically, NC State is not known for comebacks and winning as the favorite, but this year they proved that the tide is changing in Raleigh. With this win, it gives Head Coach Dave Doeren his third 9 win season in 5 years and potential for the Pack's first 10 win season since 2002.
On the flip side, Mack Brown and the Tar Heels need to do some soul searching. This was supposed to be their year, but going 6-6 when you had ACC Championship aspirations is a pretty hard fall to take. The Heels will need to reevaluate some things in the offseason and look to the future to be the face of the program, not Mack Brown's success of the past in Chapel Hill.
As the season comes to a close, I stand at 31-12. I will happily take that and test my luck in the post season to see if I can improve my winning percentage, slightly.
---

#15 Pittsburgh vs #16 Wake Forest (Saturday Dec. 4th – 8pm)
Pittsburgh and Wake Forest will play for the ACC Championship Saturday night, just as everyone had predicted, right? Ha! No one even came close to picking these two teams to be here. Everyone was thinking it would be Clemson, or a few picked NC State, representing the Atlantic and North Carolina or Miami from the Coastal. So it is sort of refreshing to have some new faces in the ACC Championship conversation. Also, I am by means not trying to diminish the seasons the Panthers and Deacons had this year, both had an outstanding run in 2021. Just no one saw it coming. Hell, Dave Clawson just recently received the award of ACC Coach of the Year, another surprise at year end.
🏆 ACC Coach of the Year 🏆 pic.twitter.com/9Mbagj9YLe

— Wake Forest Football (@WakeFB) December 2, 2021
Now, I could sit here and type out some longwinded article filled with every stat you could imagine about Pitt and Wake, and while I will hit you with some stats, I am going to keep this fairly simple and not over complicate it.
As we all know both the Panthers and Deacons go as far as their quarterbacks will take them. Wake Forest QB Sam Hartman has had an insane year statistics wise, 34 passing TDs, 10 rushing TDs, 3,711 passing yards with 10 interceptions. He has picked defenses apart all season long. He credits his breakout year to his mental health awakening, but I would also credit some of that to his maturity on the field. He has shown decisive decision making on the field and a high football IQ.
The man opposing Sam Hartman on Saturday is basically a college football legend in the making…Pitt QB Kenny Pickett. It seems like Pickett has been at Pitt forever, but the Pitt faithful have been grateful for everything that he has put into this program. Pickett has thrusts himself into the Heisman Trophy running by passing for over 4,000 yards, 40 passing TDs, 4 rushing TDs with a mere 7 interceptions. Beyond that, Pickett stands alone at the top of the Pitt quarterback record books. Yes, that is right Pickett over Marino. He holds the records for career passing yards, single season passing yards, single game passing yards, single season passing touchdowns and is currently tied with Marino for career passing touchdowns, which he will most likely break in this championship great. Truly a legend in the making.
All in all, I am going to call this even where neither team has the quarterback advantage over the other. However, there is one area where the Pitt Panthers have an advantage over the Demon Deacons.
Defense. Pitt by far as the better defense of these two squads. Pitt has the 5th best rushing defense in the country, allowing just 2.81 yards per rush and 92 yards per game. They also have sacked the opposing quarterback 46 times this season. Yes, it is going to be impossible to keep Wake Forest off the scoreboard, but if the Panthers force some punts, better yet get some hits/sacks on Hartman and make him think a split second longer about a pass, then it completely changes the complexion of this game in favor of Pitt.
Wake has been able to win games by outscoring their opponents, not by shutting them down. The Deacs have allowed their opponents to score 30+ points six times this season but yet went 4-2 in those contests.
The Pitt defense is the difference maker here and leads the Panthers to their first ever ACC Championship. The legend of Kenny Pickett only grows as a result of stellar performance under the brightest lights and be prepared for a cringe-worthy acceptance speech from Pat Narduzzi, or something at least GIF worthy.
Prediction: Pittsburgh 39, Wake Forest 35
Follow me for more ACC content at @SJWoolard on Twitter!