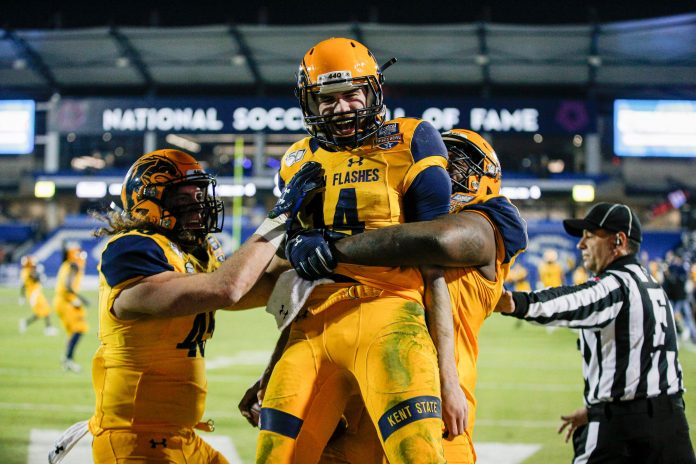 Skip to We have done the DFS homework for you, and here are is our breakdown for Saturday's slate of games in college football. We are using DraftKings numbers, so you have $50,000 to pick 8 players ($6,250 AVG). We are specifically targeting the CFB $15K Coffin Corner Single Entry ($5 Entry).
Baylor vs Oklahoma State
Kent State vs NIU
Utah State vs SDSU
Appalachian State vs Louisiana
Georgia vs Alabama
Houston vs Cincinnati
Pittsburgh vs Wake Forest
Michigan vs Iowa
---
Quarterbacks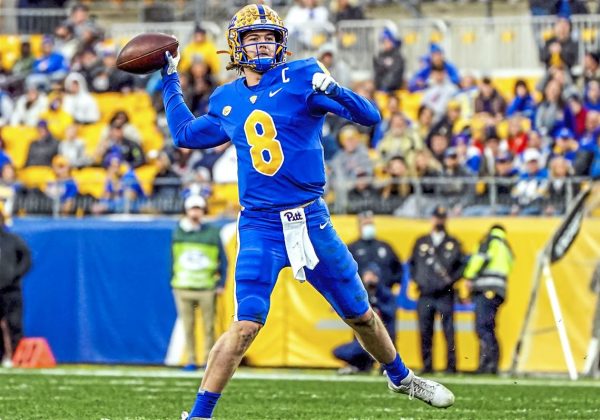 Top Plays
Kenny Pickett (Pitt) $9,700 – This is a fantastic play. He will be hard to fit into your lineup at that price, but he will be worth the play if you can squeeze him in.
Sam Hartman (Wake Forest) $9,500 – Hartman is a good play every week, and the Demon Deacons will need to score a lot to keep up this week.
Desmond Ridder (Cincinnati) $9,000 – Ridder averages 25 FPPG and the Bearcats need a strong outing to impress the committee. Expect a big game from him.
Dustin Crum (Kent St) $8,300 – Crum has an excellent match-up and should have a big game vs NIU.
Best Value Plays
Rocky Lombardi (NIU) $7,500 – Lombardi missed last week with an injury, so keep an eye on his status. But I love his match-up vs Kent State.
Spencer Sanders (Oklahoma St) $7,200 – Sanders scored 15.9 Fantasy Points earlier this season vs Baylor. It's not a great match-up, but he is a player who could get you 20-25 points with a good game.
Longshot Plays
Chase Brice (App St) $6,600 – Brice only scored 9.7 Fantasy Points vs Louisiana earlier this season, but he's averaging 19 FPPG. For the price he's worth taking a shot on.
Gerry Bohanon (Baylor) $6,200 – Bohanon scored 14.2 Fantasy Points vs Oklahoma State earlier this season. If he's healthy and plays, he could be a good contrarian play.
Cade McNamara (Michigan) $5,700 – McNamara has an excellent price tag, but the match-up is bad. If you need a cheap QB play, he's probably worth taking a flyer on.
AVOID
Bryce Young (Alabama) $8,500 – This match-up is HORRIBLE and the price is too high.
---
Running Backs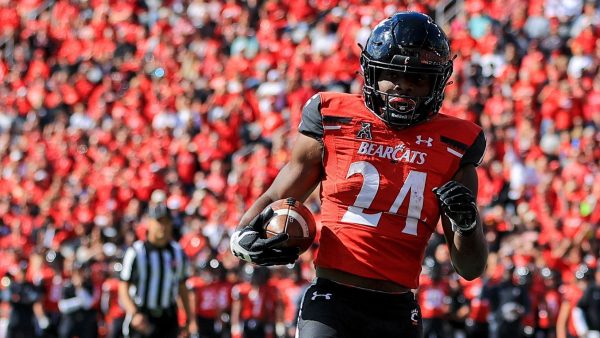 Top Plays
Hassan Haskins (Michigan) $8,700 – This price tag is high for Haskins with him not having a great match-up, but he's been on fire lately. If you can fit him into your lineup, he could be a good contrarian play because people will avoid him for the price.
Jerome Ford (Cincinnati) $7,100 – Ford has an outstanding match-up vs Houston, and he will be in a ton of my lineups.
Best Value Plays
Marquez Cooper (Kent St) $6,500 – Cooper is a player a lot of P5 fans might not know about, which is why I love this play. He has an excellent QB and he's in an offense capable of scoring a lot. He's scored over 22 fantasy points the last four games.
Alton McCaskill (Houston) $6,300 – McCaskill is averaging 18.5 FPPG, and if UH wants to stay in this game they need to establish the run, this could end up being an excellent play.
Longshot Plays
Chris Smith (Louisiana) $5,900 – Smith had 20.2 Fantasy Points vs Appalachian State earlier this season and you can't beat the value for this price.
Jay Ducker (NIU) $5,600 & Clint Ratkovich (NIU) $4,600 – If NIU RB Harrison Waylee DOESN'T PLAY, then these two would be huge steals. Ratkovich would be an excellent play for that price tag and the fact that he's a big factor around the Goal Line.
Greg Bell (San Diego St) $5,200 – Bell is going to get plenty of touches and has high upside. You can't beat that for this price.
Rodney Hammond Jr (Pitt) $4,800 – If Israel Abanikanda DOESN'T PLAY, then Hammond will be a good value play.
Blake Corum (Michigan) $4,300 – This isn't the best match-up for Michigan and you still have Hassan Haskins in front of Corum, but for this price all Corum needs is a TD.
RBs I'm Avoiding

Brian Robinson Jr (Alabama) $7,300 – Robinson Jr has a TOUGH match-up, and I don't trust him for this price.
Zamir White (Georgia) $5,800 – White has been very disappointing in DFS all season and I'm done playing him.
---
Receivers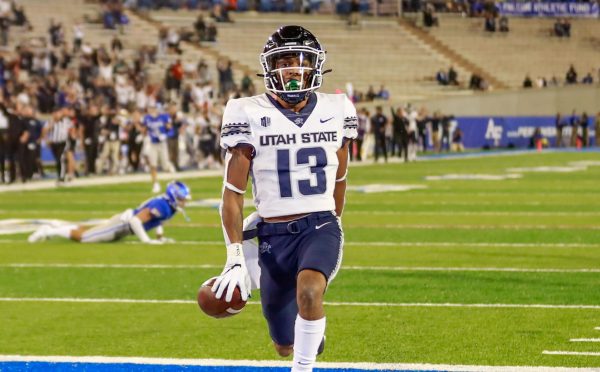 Top Plays
Jordan Addison (Pitt) $9,300 – Addison has a spectacular match-up and even though the price tag is frightening, I want a few shares of Addison.
A.T. Perry (Wake Forest) $7,700 & Jaquarii Roberson (Wake Forest) $6,500 – Both players here are excellent plays. Perry will probably score more Fantasy Points, but he's also $1200 more. Roberson has excellent value and will be in a few of my lineups.
Deven Thompkins (Utah St) $7,400 – Thompkins has been great all season averaging 26.9 FPPG. but this will be an extremely tough match-up.
Best Value Plays
Dante Cephas (Kent St) $7,100 – I LOVE this play. Dustin Crum can sling it and Cephas is his #1 target.
Trayvon Rudolph (NIU) $6,900 – If Lombardi starts at QB for NIU, this is a great play. If he doesn't, then it's not.
Brock Bowers (Georgia) $6,700 – I don't like paying up for Tight Ends most of the time, but Bowers has proven to be the #1 receiving option for the Dawgs.
Alec Pierce (Cincinnati) $6,600 – Pierce went off last week for 30 Fantasy Points and I expect another big game from him this weekend.
Jesse Matthews (San Diego St) $6,300 – Matthews has been on fire lately. He has over 30 points in each of his last two games, despite not having more than 22 points in a game all season before these games.
Derek Wright (Utah St) $6,000 – Wright had a big game last week with 34 points. He has a tough match-up but has high upside.
Tyquan Thornton (Baylor) $5,700 – Thornton only had 8 Fantasy Points vs Oklahoma State earlier this season, and I don't like the match-up. However, he might be a good contrarian play for this price.
Keshunn Abram (Kent St) $5,400 – Abram is a good cheap play who's coming off a 29.8 Fantasy Game.
Corey Sutton (App St) $4,900 – Sutton has TD Potential and he's an excellent value.
Brandon Bowling (Utah St) $4,800 – If Utah State has to throw a ton like I expect, Bowling could be a play that gets you 3-6 catches.
Longshot Plays
Jeremy Singleton (Houston) $4,300 – Singleton could get a lot of opportunities this week if UH is down and passing often.
Daniel Bellinger (San Diego St) $3,700 – Bellinger could get you 5-15 points, and for this price, that will work.
Mock Lineup #1
QB: Dustin Crum $8,300
RB: Greg Bell $5,200
RB: Marquez Cooper $6,500
WR: Dante Cephas $7,100
WR: Daniel Bellinger $3,700
WR: Jaquarii Roberson $6,500
Flex: Trayvon Rudolph $6,900
SuperFlex: Cade McNamara $5,700
Mock Lineup #2
QB: Rocky Lombardi $7,500
RB: Jerome Ford $7,100
RB: Marquez Cooper $6,500
WR: KeShunn Abram $5,400
WR: Brandon Bowling $4,800
WR: Trayvon Rudolph $6,900
Flex: Greg Bell $5,200
SuperFlex: Chase Brice $6,600