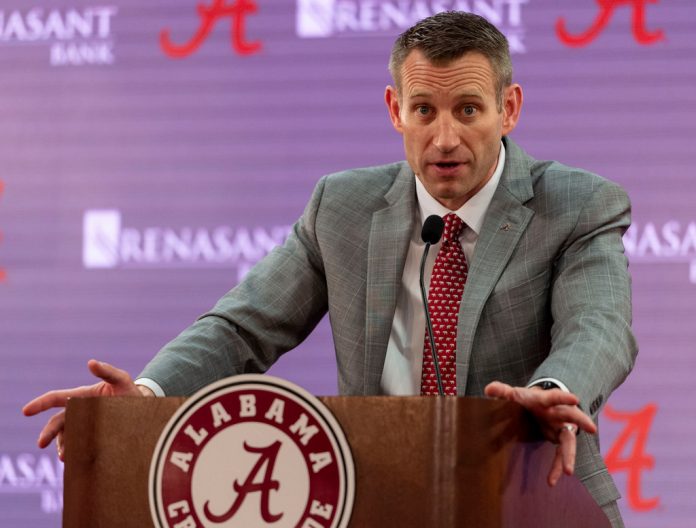 Alabama basketball has experienced an exciting offseason to complement 2020. The National Letters of Intent (NLI's) have been signed by four recruits, and Alabama has also received a transfer. Head coach Nate Oats and company have been hard at work bringing talent to Tuscaloosa. We break down each Tide recruit.
4-star G Josh Primo
Canada's Joshua Primo headlines the outstanding recruiting class. The 6-foot-6, 180-pounder is rated the No. 8 combo guard and the No. 47 overall player in the class. His combination of size, skill, and shot-making abilities make him a uniquely impressive guard prospect. He brings versatility and ability to impact the game whether he's playing on or off the ball. Primo has good mechanics, impressive footwork, and deep range on his shot.
4-star PF Keon Ambrose-Hylton
Keon Ambrose-Hylton is a 6-foot-8, 200-pound Forward. Ambrose-Hylton will likely fill in the gap left by departing senior James "Beetle" Bolden. Also hailing from Canada, Ambrose-Hylton participated in AAU events alongside Primo. Keon was the earliest commit to sign his NLI, doing so in November.
3-star G Keon Ellis
Early in April, Alabama added another commit in Keon Ellis. Ellis is a JUCO transfer out of Florida Southwestern State College in Fort Myers, Fla. The No. 3-overall JUCO transfer will add much depth at the guard position. Ellis, at 6-6, 165 pounds, will contribute early.
3-star SF Darius Miles
Joining the 2020 class is strong forward Darius Miles of IMG Academy. He more than likely won't have the immediate impact that is expected from players like Primo and Ellis. Miles has a long frame, standing at 6-foot-7. He excels at ball-handling and is able to finish at the rim.
SF Jordan Bruner (Transfer)

Finally, graduate-student transfer Jordan Bruner is the icing on the tasty cake of incoming Crimson Tide players. A 6'9″ strong forward out of Yale, Bruner is arguably the top grad-student transfer in the nation. While at Yale in 2019, Bruner averaged 10.9 points per game and just under 10 rebounds per game at 9.2.
Verdict: 
In 2019, Alabama finished with the No. 3 offense in the nation and averaged 82 points per game. With the new and updated roster, the Crimson Tide looks to have even better numbers in 2020.
With the team now filled out and the roster near completion, next season can't get here fast enough.