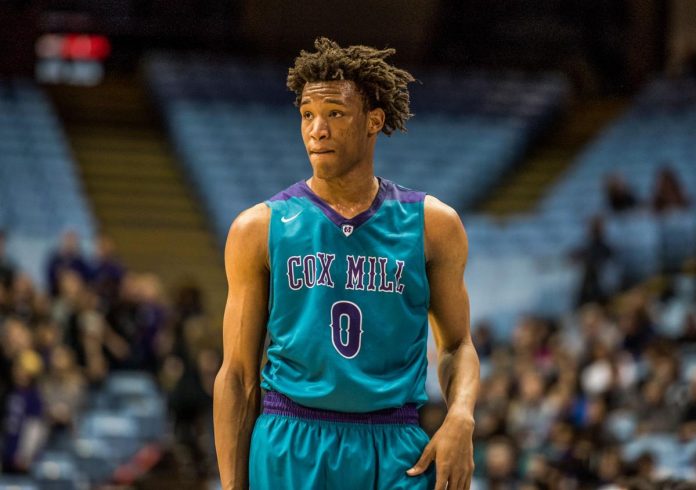 Wendell Moore has announced his top 5 schools, and it looks like he will be playing college ball in either North or South Carolina. Moore is a 5-star prospect and one of the best SF in his class. Not only is he one of the best at his position he is also one of the best overall players. The schools that made the cut were Duke, UNC, Wake Forest, South Carolina, and NC State.
blessings 🙏🏽 pic.twitter.com/cQi8s89bIJ

— thewendellmoore (@thewendellmoore) May 4, 2018
Wendell Moore has many strengths to his game. He is able to dominate his competition whether he is close to the basket or shooting a jumper. With his athleticism and his wingspan, he is able to make it look easy. This also makes Moore a great rebounder as well. However, his main strength might be his ability to distribute the ball and getting his teammates involved. Moore has a very unselfish game and has the ability to make the players around him even better.
Mike's Take
Wendell Moore has to be one of the most exciting players to watch in the 2019 class. Especially when the ball is in his hands. He has the ability to score over, around, or through almost any defender. Also, when he drives to the hoop, he is able to keep his head up and find another open man. He will most definitely accentuate the skills of his teammates.
We have also pegged Wendell Moore as a kid that will end up as a Blue Blood. I also believe this announcement has made it even more clear that he will. It seems that this race will come down to the Blue Blood rivals – UNC and Duke. Coach K has done a great job recruiting this types of players, and has only gotten better over the years. The Blue Devils received commitments from 4 out of the top 10 players in the nation. However, UNC has a secret weapon in this recruitment. Wendell Moore's good friend and HS teammate, Rechon "Leaky" Black, is a part of the Tar Heel 2018 recruiting class. I believe he will end up a Tar Heel or a Blue Devil. Stay tuned for more developments!