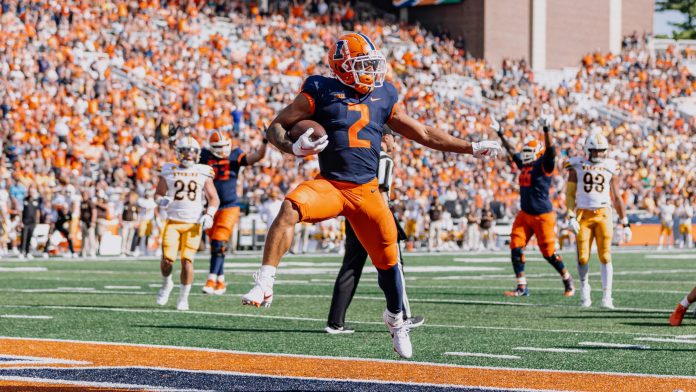 We have done the DFS homework for you, and here are is our breakdown for Saturday's slate of games in college football. This is our preview for the DraftKings $200K Saturday Kickoff contest. A $15 entry gets you in the contest which pays out $50,000 to 1st place. We are using DraftKings numbers, so you have $50,000 to pick 8 players ($6,250 AVG).
Games
Arkansas at Auburn
Oklahoma at Iowa State
TCU at West Virginia
Georgia Tech at Florida State
Notre Dame at Syracuse
Ohio State at Penn State
Rutgers at Minnesota
Florida vs Georgia
Oregon at California
Oklahoma State at Kansas State
Wake Forest at Louisville
Illinois at Nebraska
Cincinnati at UCF
---
Quarterbacks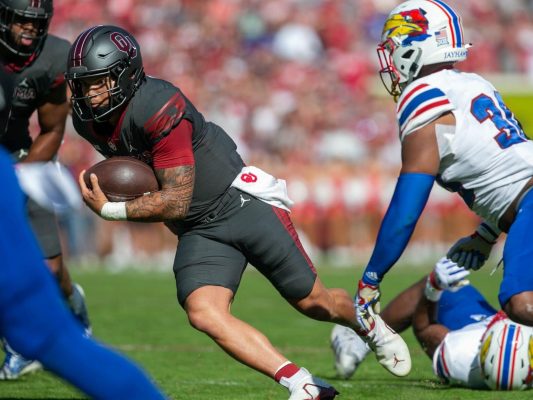 Top Plays
Bo Nix (Oregon) $9,400
CJ Stroud (Ohio St) $9,200
Sam Hartman (Wake Forest) $8,900
Dillon Gabriel (Oklahoma) $8,800
This is the rare week where I'm willing to pay up for QBs because the top players at RB/WR aren't extremely well priced or aren't good plays. Nix, Stroud, and Hartman are my three favorite plays of this group, but Hartman will be the one that I play the most. He's averaging 29.7 PPG and the game vs Louisville could be high scoring.
Best Value Plays
Max Duggan (TCU) $8,500
Stetson Bennett (Georgia) $8,400
Spencer Sanders (Oklahoma St) $8,300
Jordan Travis (Florida St) $8,200
Malik Cunningham (Louisville) $8,000
The QB slate this week is STACKED. Duggan is averaging 30.5 PPG and faces off against WVU, which is an above average match-up. Stetson Bennett is a good contrarian play because people will pay $100 more for Duggan or $100 less for Spencer Sanders. Jordan Travis probably won't be highly owned, and he's a good value at $8,200 with a match-up vs Georgia Tech. The play I really love is Malik Cunningham at 8K. We know the rushing upside he brings and this game has shootout potential.
Longshot Plays
Anthony Richardson (Florida) $6,000
Tommy Devito (Illinois) $6,000
Garrett Shrader (Syracuse) $5,900
Hunter Dekkers (Iowa St) $5,300
Robby Ashford (Auburn) $5,200
Tanner Morgan (Minnesota) $5,000
Let's be honest- not many people will play Anthony Richardson at 6K vs the Georgia Defense which makes him a good low-owned contrarian play. If you want to get different, he's the play. Tommy Devito is also 6K and he has a spectacular match-up vs Nebraska. Hunter Dekkers at $5,300 is a play I'll have a few shares of because I love the match-up vs Oklahoma. If you want a nasty, scary longshot, then Tanner Morgan at 5K is your guy. Morgan didn't play last week vs PSU, and his match-up this week vs Rutgers isn't the best. But he will be low owned and has that super senior experience.
---
Running Backs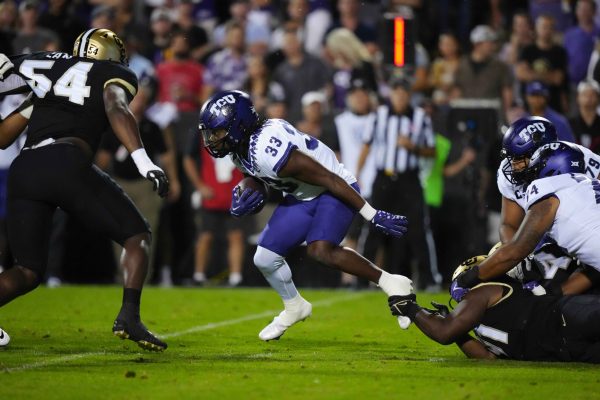 Top Plays
Chase Brown (Illinois) $7,500
Mohamed Ibrahim (Minnesota) $7,300
Chase Brown is definitely my #1 RB play this week. He has a good match-up vs Nebraska and we know he will get plenty of volume. Ibrahim has a tougher match-up, but he's a guy with potential for a massive game each week.
Best Value Plays
Eric Gray (Oklahoma) $7,100
Deuce Vaughn (Kansas St) $7,000
Sean Tucker (Syracuse) $7,000
Raheim Sanders (Arkansas) $6,900
TreVeyon Henderson (Ohio St) $6,600
Kendre Miller (TCU) $6,300
Charles McClelland (Cincinnati) $6,200
Tank Bigsby (Auburn) $5,400
Eric Gray is never highly owned, and with Gabriel at QB, this offense will run smoothly, which will lead to plenty of potential for a big game from Gray. Deuce Vaughn and Sean Tucker are both 7K. I prefer Vaughn over Tucker, but both have big boom potential. Raheim Sanders is averaging 26 PPG. His match-up is tougher vs Auburn, but he consistently performs. I believe this is the week TreVeyon Henderson could go slam off. He's only $6,600 and one of the best RBs in college football. Get ahead of the curve and don't miss out on him having a big game. Tank Bigsby at $5,400 is a massive steal, and with this price it allows you to load up elsewhere with potential for a lot of points at your RB spot.
Longshot Plays
Jarquez Hunter (Auburn) $4,200
Logan Diggs (Notre Dame) $3,900
Diggs was a longshot play of mine last week, and he scored 16 points. For $3,900, he's super cheap this week and someone who could score 8-20 points.
---
Receivers

Top Plays
Xavier Hutchinson (Iowa St) $7,900
Marvin Mims (Oklahoma) $7,500
Marvin Harrison Jr (Ohio St) $7,400
I'll be honest, I'm not in love with any of these plays. The value at WR this week is in the middle tier of pricing.
Best Value Plays
Quentin Johnston (TCU) $7,200
AT Perry (Wake Forest) $7,000
Emeka Egbuka (Ohio St) $6,900
Troy Franklin (Oregon) $6,800
Bryce Ford-Wheaton (West Virginia) $6,700
Brock Bowers (Georgia) $6,600
Johnny Wilson (Florida St) $6,100
Michael Mayer (Notre Dame) $5,600
Bryson Green (Oklahoma St) $5,400
Johnston has a good match-up vs WVU, and he could be in line for another big game. I'm going to stay on the AT Perry Train, as he's averaging 17.2 PPG. I'm just waiting on that BIG breakout game. Troy Franklin at $6,800 is a player who's emerged for Bo Nix averaging 18.2 PPG. He has a good match-up this week vs CAL. Brock Bowers usually steps up in big games. I hate paying $6,600 for a Tight End, but he's also used in the run game and has potential for a big game vs Florida. Bryson Green is a player I played last week in a showdown slate as my captain and it payed off. He's averaging 16.4 PPG, and for $5,400 you get outstanding value.
Longshot Plays
Matt Landers (Arkansas) $4,800
Marshon Ford (Louisville) $4,200
Brayden Willis (Oklahoma) $4,000
Trey Knox (Arkansas) $3,600
Dylan Wright (Minnesota) $3,500
There's a lot of good value here especially with these Tight Ends. Ford, Willis & Knox all have high upside for their prices, I like Ford & Willis the most this week. Dylan Wright is the WR1 for Minnesota when healthy and for $3,500 that's a major steal.
Mock Lineup 1
QB: Hunter Dekkers $5,300
RB: Tank Bigsby $5,400
RB: Chase Brown $7,500
WR: Dylan Wright $3,500
WR: Xavier Hutchinson $7,900
WR: Matt Landers $4,800
Flex: TreVeyon Henderson $6,600
SuperFlex: Sam Hartman $8,900
Mock Lineup 2
QB: Sam Hartman $8,900
RB: Chase Brown $7,500
RB: Logan Diggs $3,900
WR: Marshon Ford $4,200
WR: Dylan Wright $3,500
WR: AT Perry $7,000
Flex: Deuce Vaughn $7,000
SuperFlex: Malik Cunningham $8,000
Check out our DFS pod!