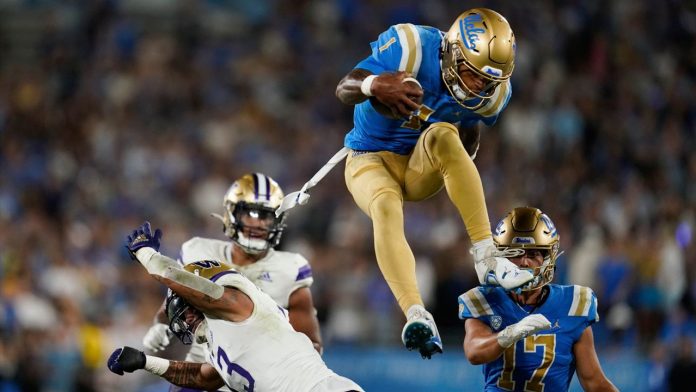 We have done the DFS homework for you, and here are is our breakdown for Saturday's slate of games in college football. This is our preview for the DraftKings $200K Saturday Kickoff contest. A $15 entry gets you in the contest which pays out $50,000 to 1st place. We are using DraftKings numbers, so you have $50,000 to pick 8 players ($6,250 AVG).
Games
Kansas at Baylor
Syracuse at Clemson
Iowa at Ohio State
Cincinnati at SMU
UNLV at Notre Dame
West Virginia at Texas Tech
Ole Miss at LSU
UCLA at Oregon
Texas at Oklahoma State
Boston College at Wake Forest
Purdue at Wisconsin
Memphis at Tulane
Arizona State at Stanford
---
Quarterbacks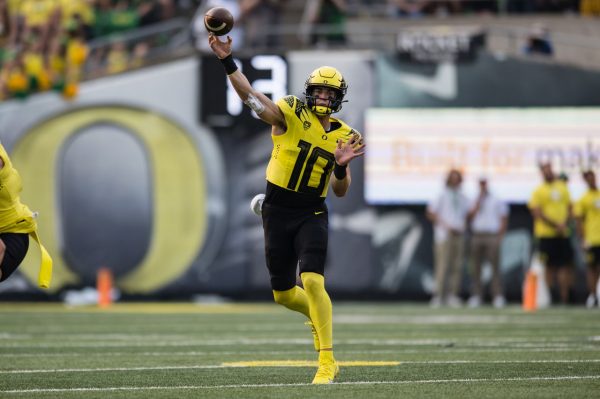 Top Plays
Bo Nix (Oregon) $9,300
CJ Stroud (Ohio St) $9,200
Sam Hartman (Wake Forest) $8,900
Nix is averaging 33 PPG this season and the match-up vs UCLA could be a high scoring game. Stroud has a tough match-up vs the Hawkeyes, but the Buckeyes offense is talented enough to score on anyone. Sam Hartman is my favorite play of the three. He has a good match-up vs Boston College and he's cheaper than Nix and Stroud.
Best Value Plays
Dorian Thompson–Robinson (UCLA) $7,900
Spencer Sanders (Oklahoma St) $7,800
Jayden Daniels (LSU) $7,700
Ben Bryant (Cincinnati) $7,500
DJ Uiagalelei (Clemson) $7,400
Jaxson Dart (Ole Miss) $6,700
Quinn Ewers (Texas) $6,400
I'm convinced DraftKings doesn't watch Texas Longhorns football games. Once again Quinn Ewers is way underpriced and at $6,400 he's an outstanding value play with high upside. Bryant is injured. I'm not sure if he plays. But if he does, he's an excellent contrarian play that will be low owned.
Longshot Plays
Aidan O'Connell (Purdue) $6,000
Phil Jurkovec (Boston College) $5,600
Tanner McKee (Stanford) $5,400
Drew Pyne (Notre Dame) $5,000
I live in the Longshot QB range. There's some excellent value here this week. Aidan O'Connell at 6K is always a value. Jurkovec is a player who BC needs a big game from, and he could be in a shootout with Sam Hartman. I absolutely love Drew Pyne here at 5K. He has an outstanding match-up, and the Irish need to find rhythm with the offense.
---
Running Backs

Top Plays
Bijan Robinson (Texas) $9,400
Bijan is an excellent play every week. He's averaging 28.3 PPG this season, but I'm going to look elsewhere at RB this week. Robinson's price and match-up will keep me away, more so the price.
Best Value Plays
Will Shipley (Clemson) $6,800
Quinshon Judkins (Ole Miss) $6,700
Zach Charbonnet (UCLA) $6,700
Xazavian Valladay (Arizona St) $6,600
Charles McClelland (Cincinnati) $6,100
Casey Filkins (Stanford) $5,800
Shipley is an elite RB so for $6,800. I'll take that deal everytime. Judkins is a player I mentioned a few weeks ago. He's averaging 22.8 PPG and has emerged as a top RB in CFB. I absolutely love Zach Charbonnet at $6,700. His match-up isn't the best but he will have plenty of volume. A contrarian pivot off of Charbonnet is Xazavian Valladay at $6,600. The Sun Devils RB won't be highly owned and the upside is there, as he is averaging 23.5 PPG.
Longshot Plays
Tyjae Spears (Tulane) $5,700
Tony Mathis Jr (West Virginia) $5,700
Audric Estime (Notre Dame) $5,400
Logan Diggs (Notre Dame) $4,000
Spears is an outstanding value at $5,700. I love the match-up, and he will get plenty of touches. Mathis Jr is a good play, but only if CJ Donaldson is out. I believe Notre Dame gets a big lead vs UNLV and Estime/Diggs will get plenty of touches.
---
Receivers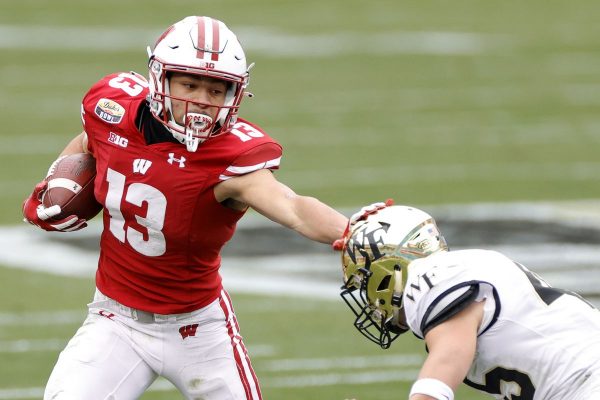 Top Plays
Rashee Rice (SMU) $7,900
Charlie Jones (Purdue) $7,800
Marvin Harrison Jr (Ohio St) $7,600
AT Perry (Wake Forest) $7,400
Harrison Jr and Perry are my favorite plays of these four. Rice has a tougher match-up vs Cincinnati and Jones is dinged up. I believe AT Perry will be lower owned this week, as most people will pay $200 more for Harrison Jr.
Best Value Plays
Tyler Scott $7,300
Jaxon Smith Njigba (Ohio St) $7,000
Emeka Egbuka (Ohio St) $6,900
Jake Bobo (UCLA) $6,800
Jonathan Mingo (Ole Miss) $6,700
Xavier Worthy (Texas) $6,100
Chimere Dike (Wisconsin) $6,000
Zay Flowers (Boston College) $5,900
Kaden Prather (West Virginia) $5,800
Worthy and Flowers are my favorite plays of this group. Both are underpriced but have a super high ceiling. Dike is going to be extremely low owned, maybe less than 1% which makes him an excellent contrarian play. Prather is starting to look like a big time player for WVU and a big red zone threat.
Longshot Plays
Antonio Williams (Clemson) $5,300
Michael Mayer (Notre Dame) $5,000
Lorenzo Styles (Notre Dame) $4,300
Williams is a True Freshman who's emerged as a big time player for Clemson. Mayer is one of the best Tight Ends in CFB and has an outstanding match-up.
Mock Lineup 1
QB: Phil Jurkovec $5,600
RB: Will Shipley $6,800
RB: Tyjae Spears $5,700
WR: Zay Flowers $5,900
WR: Chimere Dike $6,000
WR: Marvin Harrison Jr $7,600
Flex: AT Perry $7,400
SuperFlex: Drew Pyne $5,000
Mock Lineup 2
QB: Quinn Ewers $6,400
RB: Casey Filkins $5,800
RB: Xazavian Valladay $6,600
WR: Zay Flowers $5,900
WR: Xavier Worthy $6,100
WR: Rashee Rice $7,900
Flex: Tyjae Spears $5,700
SuperFlex: Phil Jurkovec $5,600
Check out our podcast!