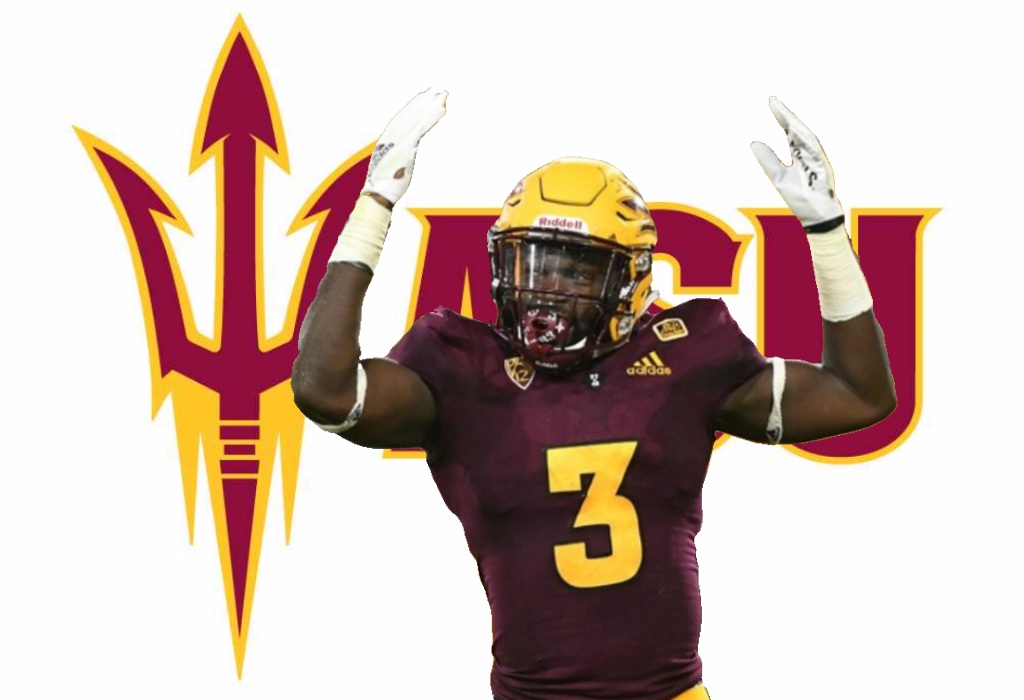 If you play Daily Fantasy, then you'll want to pay attention to this article. I play DraftKings and prefer that over any other DFS outlets out there. Here's some helpful tips for college football on Friday night. Remember you have $50,000 to pick 8 players ($6,250 AVG).
Friday Night CFB games on DraftKings
Duke @ Virginia Tech
Penn State @ Maryland
San Jose State @ Air Force
Arizona State @ California
When filling out a DFS lineup for College Football you need to realize that you're only picking Offensive Players. With that being said you have to know what teams could score a lot of points and which players are going up against good defenses. My general thoughts on this Friday Night slate of games is that Air Force could score a lot on the ground and VT/Duke could have 8-10 TDs. Penn State is tied for 4th in the nation in points allowed which tells you their Defense is legit, Arizona State is 17th and CAL 27th so I don't expect a lot of points in the CAL/ASU game.
Quarterbacks
Best Plays
• Quentin Harris $8,100 vs Virginia Tech
Harris is the highest valued QB and will cost you a good amount. However, he's going up against a Hokies defense that has looked bad the past two years and struggles vs mobile QBs. Harris was 24-27 for 237 yards 4 TDs vs Middle Tennessee and also rushed for 107 yards.
• Donald Hammond III $6,900 vs San Jose State
Hammond is a safe play if you're looking for 20 points. He's averaging 20.2 FPPG this season and has the ability to throw as well.
Boom or Bust
• Ryan Willis $7,400 vs Duke
Ryan Willis looked terrible vs Furman and could very well have another bad game. However, the potential is also there for 3+ TDs. He has a phenomenal group of WRs/TEs and I'm expecting him to get 2-4 TDs.
• Sean Clifford $7,900 vs Maryland
The potential is there for Clifford. He struggled vs Pitt, but did well vs Buffalo and Idaho. He will have at least two touchdowns vs the Terps.
• Josh Jackson $7,300 vs Penn State
Kenny Pickett threw for 372 yards vs this Penn State defense. Yet, Jackson struggled vs the Temple Defense only completing 39% of his passes. It's a roll of the dice.
Avoid
• Jayden Daniels $6,300 vs California
The Golden Bears Defense is really good, the 27th best in the nation, and Daniels is just a true freshman. Stay away.
Running Backs
Scary Match-ups/Great RBs
Eno Benjamin $7,600 and Anthony McFarland $7,700 are the best RBs on Friday night. But both of their matchups scare me. However, you can't go wrong with an elite RB like these two. All it takes is one big play to get you major points.
Best Value Plays
• Kadin Remsberg $6,400 vs San Jose State
I LOVE this play. You get an excellent RB for a great value. Remsberg has 267 rushing yards and 3 TDs this season and being in an option offense he always gets plenty of touches.
• Deon Jackson $5,100 vs Virginia Tech
Jackson rushed 22 times when the Blue Devils played Middle Tennessee. The Hokies defense usually gives up one or two big runs a game, so take a flyer on Jackson.
• Keshawn King $4,800 vs Duke
This is the best RB value on the board. You get a starting RB who's not known by many just yet. So not many people will take advantage of this value play. King is extremely explosive and I expect his touches to keep rising.
Wide Receivers/Tight Ends
Best Plays
• Aaron Young $6,500 vs Virginia Tech
Young had 6 catches for 106 yards and 2 TDs vs MTSU and looks to be the favorite target for Quentin Harris.
• Tre Turner $6,000 vs Duke
The Hokies use 5-6 different receivers, but Tre Turner is the #1 guy in Blacksburg. They call him Big Play Tre for a reason. He has a good chance of getting in the end zone Friday night.
• KJ Hamler $6,100 vs Maryland
Hamler has 10 receptions for 245 yards and 2 TDs this season. He's a big play threat who should get 5-8 touches.
Under the Radar Plays
• Pat Freiermuth $4,800 vs Maryland
$4,800 is excellent value for someone who's a big time red zone threat. Freiermuth has 2 receiving TDs this season.
• Jalon Calhoun $5,100 vs Virginia Tech
Calhoun has 15 catches for 153 yards and 3 touchdowns this season. This is a good play as you can expect 4-7 receptions for Calhoun.
• James Mitchell $3,900 vs Duke
If you want to load up on higher ranked players and take a flyer on an undervalued player then take Mitchell. Mitchell has a rushing and receiving touchdown this season.
Players I'm Avoiding
Brandon Aiyuk $6,200 vs CAL
Bailey Gaither $5,000 vs Air Force
If you want to give DFS a try, sign up for free at DraftKings.