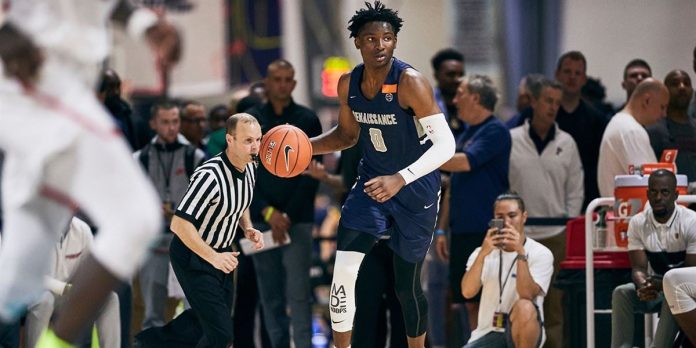 With the 2020 class coming to a close, we now turn our attention the class of 2021. There is a lot of talent in this class. Will some players go to the G League? Could we see some potential team-ups? Let's find out.
1. Jonathan Kuminga
Jonathan Kuminga is down to ten schools. The list includes Kentucky, Duke, Auburn, Maryland, Georgia, Washington, Memphis, Florida State, Michigan, and Texas Tech. He will be cutting his list down to five schools very soon. Many people believe that he will reclassify to the class of 2020. If he does reclassify, expect schools like Auburn, Georgia, and Texas Tech to be involved. Kuminga's brother, Joel Ntambwe, is currently on Texas Tech's roster. I would give Texas Tech and Auburn the best shot right now.
2. Chet Holmgren
Holmgren is the top center in the class. At 7'0″, Holmgren is getting recruited by a lot of top schools. Minnesota, Gonzaga, North Carolina, and Texas are some of the schools involved. As of right now I would actually give Gonzaga the best shot to land him right now. He took his only official visit to the school and it seemed to have gone very well. I would also give Minnesota a pretty good chance in this recruitment as well. They are the home state school and shouldn't be counted out.
3. Patrick Baldwin Jr.
Patrick Baldwin Jr. is a Top 3 player in the class. He has schools like Duke, Kentucky, North Carolina and Kansas recruiting him. Another school that is on him pretty hard right now is the University of Milwaukee. Baldwin's Dad, Pat Baldwin, is currently the head coach of the school. As of right now, Duke and Milwaukee have the best shot in this recruitment. My prediction is Duke, but family ties could help Milwaukee land the biggest recruit in schools history.
4. Paolo Banchero
Banchero is the top power forward in the class. He is down to a final list of Arizona, Duke, Gonzaga, Kentucky, Tennessee, and Washington. Kentucky, Tennessee, and Washington are schools that have the best shot at landing Banchero right now. Duke is still a player. Banchero has been in talks with fellow 5-star recruit Kennedy Chandler about maybe teaming up. The three schools Banchero and Chandler have in common, Kentucky, Duke, and Tennessee. My prediction is Kentucky.
5. Jabari Smith
Smith is a Top 5 player in the class. Schools like Auburn, Tennessee, Georgia and Alabama are involved. I like Tennessee's chances in this recruitment right now. Auburn could also be a school to watch out for as well.
6. Jaden Hardy
Hardy is the best scorer in the class. He is down to a final 12 of Kentucky, Memphis, Oregon, Georgetown, Texas Tech, Georgia, Arizona, Kansas, Michigan, UCLA, Illinois, and Arizona State. I believe Hardy is Kentucky lock. Michigan and Arizona could have shot as well, but in the end, Hardy will end up at Kentucky.
7. Moussa Cisse
Cisse is a top player in the class. He is down to Final 6 of Florida State, Georgetown, Kentucky, LSU, Memphis, and Georgia. There is a very good chance that Cisse could reclassify to the 2020 class. In my eyes, LSU and Memphis have the great shot at landing Cisse with LSU having the best chance.
8. Moussa Diabate
Diabate is one of the best front court players in the class. Schools like Florida State, Arizona, Maryland, Memphis will be involved. My prediction right now is Florida State.
9. Peyton Watson
Watson is a top player in the class. Expect all the West coast schools to involved. Kentucky has reached out to Watson. Arizona and Washington have the best shots right now.
10. Michael Foster
Foster is a Top 15 player in the class. Georgia, Baylor, Florida State are some of the schools involved. My prediction right now is Georgia.