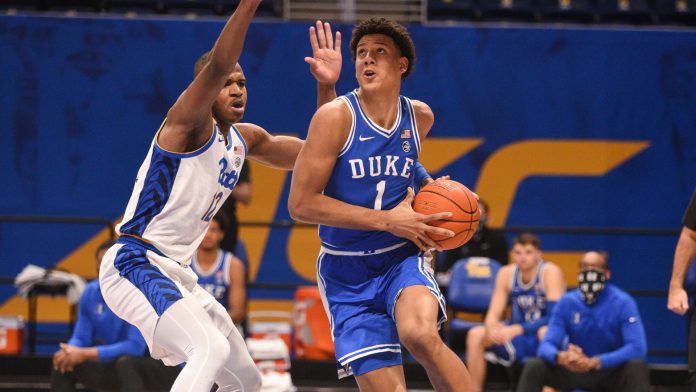 Just two weeks ago, Duke basketball was sitting at 7-8 overall and was in all likelihood, slated to miss the NCAA tournament. They proceeded to win four consecutive games, three of them by double digits and the other over a Top 15 Virginia team. Now, the Blue Devils look like a legit bubble team and are playing their best basketball of the season.
A common explanation for this turnaround is the opt out of Jalen Johnson. Many fans and pundits decided that Johnson was, in fact, a liability to the program, and the reason things have turned around was because he was not in the line-up.
Is it fair to say that Duke is actually better off without their projected lottery pick? We'll take a look at the possible answers.
Over-usage
Jalen Johnson technically opted out after the NC State game, the beginning of Duke's current winning streak. But since he played fewer than ten minutes, let's say for all intents and purposes that he played no part in the Blue Devils' run.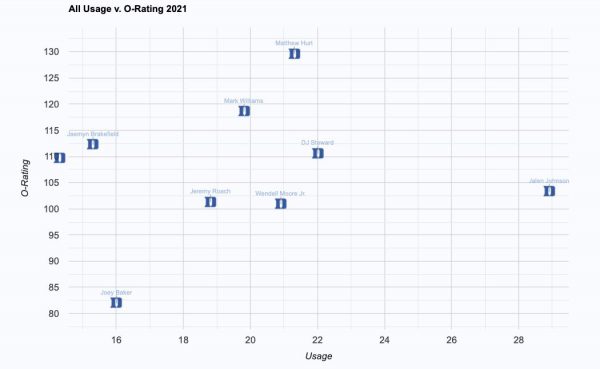 During the stretch that he was playing, his usage did not match up to his production on the floor. As shown above, while the Blue Devils offense relied on him the most, his offensive rating was below average for the team.
The Matthew Hurt Factor
Another means by which the narrative checks out is that Johnson's absence opens opportunities for other players. The emergence of Matthew Hurt has been a primary reason for Duke's recent success.
| | | |
| --- | --- | --- |
| Jalen Johnson Minutes | Matthew Hurt FG Attempts | Matthew Hurt Points |
| 0 | 13.3 | 20 |
| 1-15 | 12 | 20.3 |
| 16-25 | 11.4 | 17.3 |
| 26+ | 11.3 | 14.8 |
In addition to the trend shown in the chart, Hurt has an effective field goal percentage of 65.5 compared to Johnson's 56.5. The offense functions at a more proficient rate with Hurt shooting more.
Take This With a Grain of Salt
The stats do show that Johnson has created a negative value to his team when he was on the court.
The picture has been painted that Johnson has been an active force that was holding back the team the entire year. However, this is far from the truth.
Keep in mind that his teammates and coaching staff are a major reason for this trend as well. It is not as if Johnson is constantly ignoring passing opportunities to create shots on his own accord. He was a heavy part of the game plan and guards would often try to force him the ball in traffic.
Stats aside, you would think that a legendary coach like Mike Krzyzewski would adapt to his lack of production at some point. Ultimately, there are games that need to be won and an ultra-talented player should be used to create a positive impact on the team's performance. If not, then Coach K should have the most liability for the failure.
Additionally, Johnson has played just 38.8% of Duke's total minutes this year. No matter how big of an impact his presence could have made, positively or negatively, he spent a majority of the time on the bench.
Finally, in Duke's two biggest wins this season, prior to this stretch, Johnson played a major factor. He totaled 52 minutes against Clemson and Georgia Tech, and had the team's highest offensive and defensive box plus/minus over that span.
The Blue Devils are certainly performing better without Johnson, but the situation is not quite that simple. All in all, this should not be held as a grudge against him as he prepares for the NBA draft.