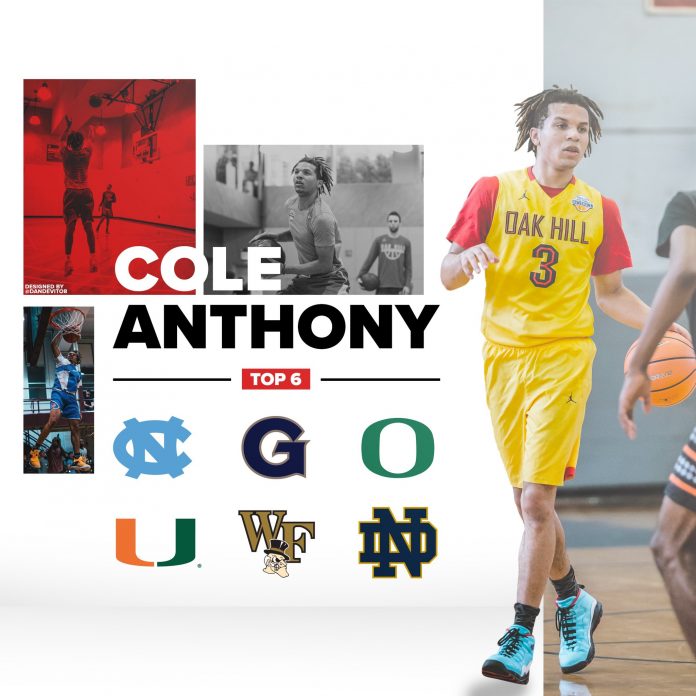 Is a Cole Anthony decision looming?
The top point guard in the 2018 recruiting class announced his final six schools via Twitter back at the end of October. The six: Georgetown, North Carolina, Notre Dame, Oregon, Miami, and Wake Forest.
Cole, son of former UNLV star, NBA point guard, and CBS Sports broadcaster Greg Anthony, has basketball in his genes. He's been in the national spotlight as a recruit since his freshman year of high school. Now a senior at the prestigious Oak Hill Academy in Virginia, Anthony is averaging a near triple double. His 17 points, 10.1 assists, and 9.8 rebounds a game to go along with 2.7 steals per game in the 15 contests he has participated in has coaches salivating.
Upcoming Official Visits
In NCAA D1, recruits can only take a total of five official visits, including only one to a specific school. In the case of Anthony, he announced a Top 6, meaning there's one school he isn't able to officially visit. He's already been on official visits to UNC, Oregon, Notre Dame, Georgetown. He has a Wake Forest official visit scheduled for this Sunday & Monday. Although Anthony isn't able to officially visit Miami, he did take an unofficial visit back in August of 2018.
After this weekend, Cole Anthony will have taken all of his visits, leading him into the next stage of the recruiting process. All that will be left is to commit to a school. Being a top prospect like Anthony, I would expect him to cut his list one or two more times before announcing, likely in time for the spring signing period.
If I had my guess, Cole Anthony's Top 3 are North Carolina, Georgetown, and Wake Forest. The Demon Deacon's have a huge opportunity this weekend to make the pitch the Cole Anthony to try and seal the deal. On the other hand, North Carolina has had Anthony in Chapel Hill three times since August, for one official, and two unofficial visits. At this point, it's obvious that Anthony is on Tar Heels head coach Roy Williams' wish list. Are they the favorites for the Cole Anthony sweepstakes? Probably. However, anything can happen. It will definitely be one of the most watched recruiting battles the rest of the year. Stay tuned!