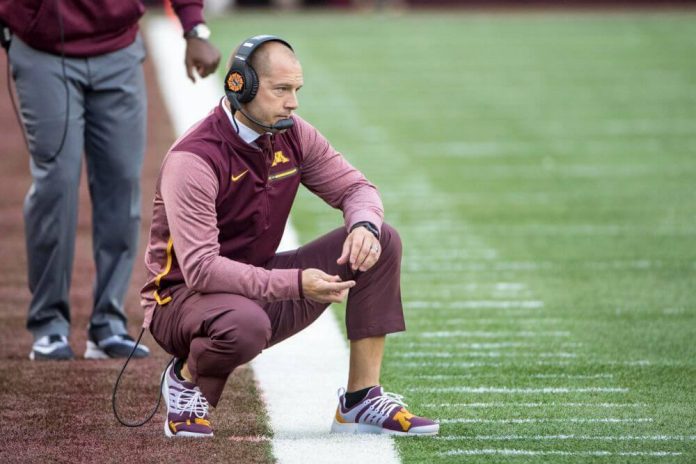 With Week 9 of college football in the books, it's time to take a look back at the weird and wonderful. The funny and flabbergasting. The amazing but accurate. The strange, but true.
Minnesota is off to its best start in school history #RowTheBoat

Before this past weekend, Minnesota was 7-0. The last time the Golden Gophers started 7-0 was 1960…when they won the National Championship. After their 52-10 drubbing of Maryland this past weekend, they're now 8-0. It was also their 4th straight 20-pt B1G victory. That's their longest streak since 1934, when they, wait for it….won the National Championship. Dun, dun, DUNNNNNN! Now, are we saying that PJ Fleck and company are going to win the National Championship? No. But we're not not saying it either. If there's one thing we've learned in life, it's to never doubt a bald man who dresses in a dapper manner with a necktie and in form-fitting clothes with short socks and customized school sneakers. But that probably goes without saying.
PS – When Minnesota won it all in 1960, they went 8-2. One of those two losses came in the Rose Bowl, aka their last game of the season, to the University of Washington. Yet, they still won the National Title. Strange, but true.
Four remarkable SEC streaks in play today

–Will Muschamp is 7-0 as a head coach vs. Tennessee.
–Mark Stoops is 0-6 the week AFTER playing Georgia.
–Alabama has won 30 straight home games.
–Arkansas has lost 15 straight SEC games.

— Brandon Zimmerman (@BZSEC) October 26, 2019
No Tua? No problem. The Tide keeps rolling.
When Brandon Zimmerman tweeted this tweet to start the day, it had the potential to be the Strangest, but truest tweet of all time. However, Will Muschamp went out and lost to Tennessee 41-21. The Mark Stoops went out and won 29-7, after playing Georgia. But leave it to Alabama to right all ships. Their 48-7 powerbombing of Arkansas kept the last two streaks going. Unfortunately for Razorback fans, they lost their 16th straight conference game, coming within one game of their all-time conference losing streak of 17 games in a row.
At the opposite end of the spectrum, the Tide won their 31st consecutive home victory. That's a little more than halfway to the NCAA record of 58 consecutive home victories, set by Miami from 1985-1994. Alabama's school record for consecutive home wins is 57, set from 1963-1982. Ironically, the Tide's loss that broke that streak was Paul "Bear" Bryant's last game that he ever coached for Alabama. Strange, but true.
USC moved to 14-0 all time vs Colorado
When the Trojans beat Colorado 35-31, they moved to 14-0 all time vs the Buffs. Now, we're not necessarily good with math. So we're not sure what that would be winning percentage wise. Probably somewhere around .800. Maybe even better. It's impossible to figure out really. But it's definitely good, more than likely.
However, it's not close to the all-time record of one team's winning streak over another. That would be Notre Dame over Navy. The Fighting Irish beat the Midshipmen an NCAA record 43 consecutive times before finally losing in 2007. The longest current win streak of one team over another is a tie between Ohio St over Indiana and Texas A&M over TCU at 24 games. The longest streak of one team over another while also having never lost is LSU over Louisiana-Lafayette at 22-0.
PS – speaking of long winning streaks of one team over another, want to know who holds the 3rd longest streak in NCAA history at 32 games? It's Oklahoma…over Kansas St. #Ouch