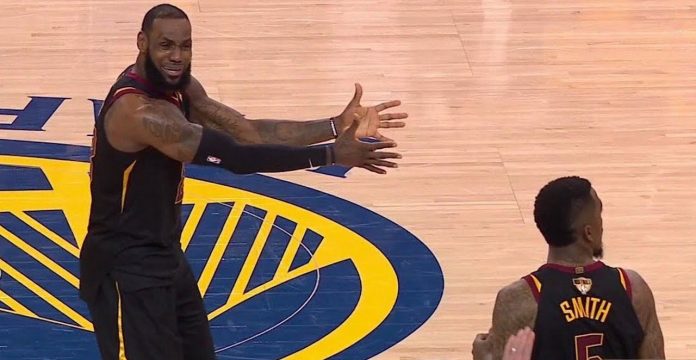 We're not necessarily good with the new maths, but the last time we checked 107 = 107. So in honor of JR Smith's mental blunder in Game 1 of the NBA Finals, we look back at some of the most boneheaded plays in college football history.
He has trouble with the snap!
Those words alone will #Trigger Wolverines fans. Up 2 with only 0:10 to play, the win probability had to be 99.9%. You need approximately 20 different miracles for this outcome to happen. And Michigan St got all 20 of them.
PS – Our sneaky favorite part of the video is the old guy who is a Michigan St fan in the stands fiddling with his sweatshirt. You just witnessed one of the greatest comebacks in sports history, and you can't celebrate because your sweatshirt isn't sitting just right.
Reggie Bush's lateral
In one of the biggest college football games in history, it was one of the biggest blunders. USC's Reggie Bush's ill-advised lateral in the championship game vs Texas completely turned the game around. At the bare minimum, the Trojans kick a FG. At best they score a TD. So it took 3-7 points off the board. And in a game that they ultimately lost 41-38….eh, not good.
PS – Fun fact: this was broadcasting legend Keith Jackson's last game. Listen to those golden pipes!
The Bluegrass Miracle
Kentucky was ready to get a signature win against the defending SEC champion LSU Tigers. But a funny thing happened on the way to victory. The biggest boneheaded play wasn't giving up a 76-yard hail mary (although, that was a HUGE boneheaded play. How do you not have a fleet of defenders standing on the 10 yard line??). Rather, it was calling a timeout with 0:15 seconds left to kick the FG. And the premature Gatorade-ation only made it 10x worse.
Throw the ball away, Riley! Throw it away!
So much fail going on in one sequence. #2 Cal at home vs Oregon St already well within FG range with 0:15 left. Let's just say after that QB Kevin Riley makes lots of un-good decisions. Now, we won't mention that #1 LSU had lost earlier in the day, meaning #2 Cal would take over the top spot in the country, possibly changing their destiny forever. Because that would be kicking them when they're down. REPEAT: we will NOT mention it.
Are you allowed to have 13 players on defense or nah?
Again with the new maths! To quote Vince Lombardi, what the hell is going on around here? First 107 = 107. Now, 13 =/= 11. Which is it? Would someone make up their mind so JR Smith and Derek Dooley won't be embarrassed on a national stage just because they can't add? This math-shaming has got to stop!