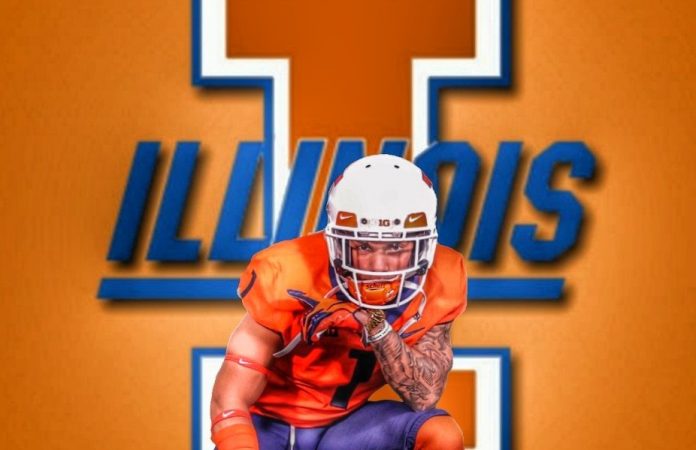 There is renewed optimism around the Fighting Illini camp that their program could be on the rise. Head coach Lovie Smith is entering his fourth year at the helm of the Illinois program with a (9-27) overall record. Despite this, Smith's 2019 recruiting class is loaded with talent. Ranked 53rd nationally, the class is highlighted by 4-star athletes Marquez Beason and Isaiah Williams, along with 4-star inside linebacker Shammond Cooper. However, if you account for the Illini's relatively small class (13), they rank 35th in the country in average recruit rank.
This led Illinois to explore the transfer portal. Here they added six more players who will no doubt make a difference in their time at Illinois. On offense, the Illini added talent from various high profile programs including Alabama, Georgia, Michigan, and USC. I was able to catch up with Trevon Sidney, one of the newest additions to Illinois, about his decision to transfer to Illinois.
Trojan commit
Originally a member of the 2016 recruiting class, Trevon Sidney was ranked as a 4-star wide receiver out of La Puente, California. Sidney's high school recruitment garnered interest from elite programs. He earned 12 offers from the likes of Miami, Michigan, Notre Dame, USC, Washington, and Wisconsin, among others. Sidney eventually came to the decision to join the USC Trojans.
His first year was a struggle behind a deep group of wide receivers. It was tough to see the field with the likes of current New York Jets wide receiver Deontay Burnett, Steven Mitchell Jr, and current USC Trojan Tyler Vaughns. This made it difficult for Sidney to get in on the action from former quarterback Sam Darnold. In 2017, Sidney played in three total games and had 3 receptions for 35 yards. The following year, Sidney improved, playing in four games, catching 7 passes for 104 yards.
His time at USC
When I asked Sidney about his time at USC, he had nothing but positive words to describe his experience.
My time there was really fun and I loved all my teammates to death. I wish I could go to war with them once again, but things didn't work out. I learned a lot from the veterans and that helped me improve my game.
USC was a great opportunity, even though my opportunities there were limited. I went up against some of the best at practice, and I felt I made the best out of those opportunities.
Sidney announced his transfer from USC on February 7th of this year. This came at a time of immense turmoil with USC losing recently hired head coach Kliff Kingbury to the NFL. Sidney did not say that Kingsbury's departure had an effect on his decision to leave USC. Instead, Sidney stated that he was simply looking for a program that was the best fit for him.
I was looking for the biggest role that I could play, and Illinois had that. I wanted to be a big part of the offense as well as playing on special teams. And Rod Smith's scheme at Illinois fit what I wanted perfectly!
Another rumor that was debunked by Sidney was that injuries plagued his time at USC and ultimately cost him his playing time. Sidney wanted to make sure that everyone knew that this was not true.
Another thing I've been reading is that injuries prevented me from playing at USC. This is not true. I had a hip surgery to fix an issue that I was born with which limited my movement on the field. Then, I had a meniscus scope surgery after spring ball last year. But I was still ready for spring ball and the season. Injury was never a reason I didn't play.
Sidney made his decision to join Illinois on April 14th.
Skills and Attributes
Sidney checks in at 5'11", 170 pounds. Coming out of high school, Sidney gained a reputation for having some of the best hands on the West Coast. His most notable strength is his superior route running. Combine this with his quickness and shiftiness, and he is an ideal slot receiver. He also played as a defensive-back in high school and on USC's scout team. Sidney on what he believes his strengths and weaknesses are on the field:
I personally don't look at size in a receiver, because I think some of the best receivers in the league are on the smaller side. I think my strengths deal with me being able to read coverages. This allows me to get open. Also, I think I'm shifty, sneaky fast, and have a pretty good catch radius. This helps me be a deep threat, too.
I think I need to work on getting stronger and being more physical. Also, I want to break some of my bad habits in my route running.
The best comparison for Trevon Sidney may be current Cleveland Browns wide receiver Odell Beckham Jr. Beckham Jr. is 5'11", 198 pounds, which is very similar to Trevon Sidney's build. Also, both players seem to have a knack for making one handed catches, as seen in one of Sidney's pregame warm up videos during his time at USC. This comparison came as no surprise to Sidney after I asked him if his game was similar to Beckham Jr.
USC's @TrevonSidney out here looking like a young @OBJ_3 👀 am I right!? pic.twitter.com/1orxYdOrKD

— Sports Thread (@sportsthread) October 14, 2016
Odell is my favorite player! I've studied his game and tried to mirror mine after his> So I guess you can say that's a fair comparison! Coming out of high school, I drew comparisons to Robert Woods. So I guess you can say my game is a combination of those two.
Projection at Illinois
Illinois' wide receivers were a major point of concern last year. This led to some absolutely abysmal production from the position group. Fast forward a year and this group could be the best Illinois has to offer on the offensive side of the field. Barring any other late additions, the starting wide receivers for Illinois should be junior Ricky Smalling, junior Trevon Sidney, and junior USC transfer Josh Immatorbhebhe. This is a group that could rival even the best programs in the Big Ten Conference.
Illinois also adds Michigan junior quarterback Brandon Peters, who will compete with freshman Isaiah Williams for the starting job. For the first time in years, Illinois will have a competent quarterback, who should be able to distribute passes to this talented wide receiver group. As for Trevon Sidney, he shared some of his goals for this upcoming season.
My biggest goal I have is to at least be named to the Biletnikoff watchlist. Then, hopefully I can be a finalist and win the award.
For my team goals, I want to help win our side of the conference. Then after that, the Big Ten Conference.
To achieve these goals, expect Sidney to be involved in short crossing routes, go routes, and screen passes. This could open up space for others around him. Offensive coordinator Rod Smith has a reputation for making his offense as expansive as it can be by using the entire width of the field. The catalyst for this offense could be Trevon Sidney.
Last year, Illinois had a plan to make standout wide receiver Mike Dudek the focal point of the offense before his untimely, season ending injury. Now this role could be bestowed upon Sidney. Fans around the country better keep an eye on the Fighting Illini, as Trevon Sidney could be one of the most dynamic pass catchers in all of college football next season.