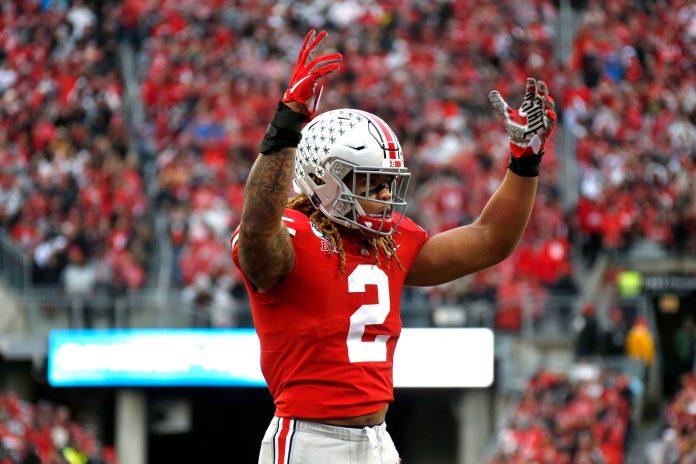 1. Ohio State
Last Week: W over Penn State 28-17
The Buckeyes jumped out to a 21-0 lead and held on late for a big win to keep them in the #1 spot. Chase Young was back and made his mark with a couple sacks. Up next is the biggest rivalry in sports, as Ohio State travels to Michigan for a shot at 12-0.
2. LSU
Last Week: W over Arkansas 56-20
The Tigers took care of business vs the Razorbacks to get to 11-0. 12-0 will be on the line when Texas A&M comes to town this week. The Aggies won the 7OT thriller vs the Tigers last year in College Station.
3. Clemson
Last Week: Bye
Clemson got a bye week and held steady at #3. Up next is a sneaky trip to South Carolina. The Tigers should handle them to get to 12-0.
Two words to describe @GeorgiaFootball:

Competitive. Toughness. 💪 #SECInside pic.twitter.com/n8VYMu0l73

— SEC Network (@SECNetwork) November 27, 2019
4. Georgia
Last Week: W over Texas A&M 19-13
The Bulldogs didn't win in the prettiest way, but they were just barely able to grab my #4 spot. Their 3 ranked wins were the key. Up next, the Bulldogs travel to Georgia Tech. However, the SEC Title vs LSU will decide if they make the CFP.
5. Utah
Last Week: W over Arizona 35-7
Utah dominated the Wildcats and clinched the Pac 12 South. The Utes are in line to make my Top 4 if they win out. Up next is a home game against Colorado, who is fighting for a bowl game at (5-6).
6. Alabama
Last Week: W over FCS Western Carolina 66-3
The Crimson Tide were able to rest starters vs WCU and get to 10-1. Up next is the big test at Auburn for QB Mac Jones. It must be a stellar performance to keep their CFP hopes alive.
3-0 in #ChampionshipNovember#OUDNA pic.twitter.com/Z3QIXZLz8X

— Oklahoma Football (@OU_Football) November 25, 2019
7. Oklahoma
Last Week: W over TCU 28-24
The Sooners snuck out a win over TCU late to keep their CFP chances alive. They travel to Oklahoma State this week, as they try to add a quality win to their resume. Oklahoma likely needs Utah to fall to get in.
8. Minnesota
Last Week: W over Northwestern 38-22
The Golden Gophers took care of business vs the Wildcats to get to 10-1 and set up a massive home game vs Wisconsin. College Gameday will be on hand, and the winner will head to the Big Ten Title Game vs Ohio State. The Gophers can still make the CFP if they win out and possibly get help.
9. Baylor
Last Week: W over Texas 24-10
The Bears handily beat the Longhorns to get their 10th win of the season. While their CFP chances are slim to none, they are very much in the running for a NY6 bowl game. Up next is a trip to Kansas to finish the regular season 11-1.
10. Penn State
Last Week: L vs Ohio State 28-17
Penn State battled to keep it close, but came up short vs the Buckeyes. Two ranked wins and 2 Top 10 losses keep the Nittany Lions in the front of the 2-loss pack. They face Rutgers this week in State College and still have a shot at a Rose Bowl bid.
11. Florida
Last Week: Bye
The Gators took a bye week to prepare for their rival Florida State this week. They have a solid shot at a NY6 bowl with a win.
Last Jump Around of 2019 has us in our feels #OnWisconsin pic.twitter.com/PTifUuUJoC

— Wisconsin Football (@BadgerFootball) November 27, 2019
12. Wisconsin
Last Week: W over Purdue 45-24
The Badgers took care of business to set up a Big Ten West Title game in Minneapolis. The battle for the Axe has never been so large. If the Badgers win, they could have a shot at the Rose Bowl.
13. Michigan
Last Week: W over Indiana 39-14
The Wolverines pulled away late to beat the Hoosiers once again and are now 9-2. Up next is the big rivalry game vs the Buckeyes. Jim Harbaugh has yet to beat Ohio State and would love to pull the upset.
14. Oregon
Last Week: L vs Arizona State 31-28
Down Go The Ducks! Justin Herbert struggled and threw some picks in the upset loss to the Sun Devils. Now the Ducks need to bounce back to beat their rival Oregon State. With their CFP hopes dashed a Rose Bowl bid is still in play.
15. Notre Dame
Last Week: W over Boston College 40-7
The Irish took it to the Eagles to get to 9-2. Up next is a trip to the disaster at Stanford. There's a good chance that the Irish end up at the Camping World Bowl for their bowl game.
16. Memphis
Last Week: W over USF 49-10
The Memphis Tigers destroyed USF to keep a hold on their G5 NY6 bid, but barely, as other teams are nipping at their heels. Up next, the Tigers welcome Cincinnati for what could end up being a rematch in the AAC Title. The winner will step into that G5 leading role.
Take advantage of every opportunity‼️#BleedBlue pic.twitter.com/x3hyMRaOAi

— Boise State Football (@BroncoSportsFB) November 26, 2019
17. Boise State
Last Week: W over Utah State 56-21
The Broncos made a statement beating Utah St by 35 and they move into that #2 spot for the G5 bid. Boise State faces Colorado St, but they may need Memphis and Cincinnati to both lose to get that bid.
18. Cincinnati
Last Week: W over Temple 15-13
The Bearcats have struggled as of late and last week needed a blocked PAT return to give them their 2 point win. Up next, is the massive trip to Memphis. They already have a spot in the AAC Title, but need this win for the G5 NY6 bid.
19. Iowa
Last Week: W over Illinois 19-10
The Hawks defense continues to dominate opponents and the offense did just enough again to get the win. Up next, Iowa travels to Nebraska to get to 9-3 and a possible Holiday Bowl bid.
20. Auburn
Last Week: W over FCS Samford 52-0
The Tigers took down an FCS opponent, but their big rivalry game against Alabama is this week. Auburn has the ability to knock Alabama out of the CFP picture and get a 9th win.
App State 35. Texas State 13. HIGHLIGHTS!#PridePassionPurpose pic.twitter.com/VpDUZWU4rL

— App State Football (@AppState_FB) November 24, 2019
21. Appalachian State
Last Week: W over Texas State 35-13
The Mountaineers may have lost their G5 NY6 bid chances, but took down Texas St to get to 10-1. Up next is a trip to Troy, before the SBC Title game. The Mountaineers should get a solid G5 opponent in their bowl game.
22. Virginia Tech
Last Week: W over Pittsburgh 28-0
The Hokies took care of business and dominated Pitt to keep their ACC Coastal chances alive. The win set up a winner take all game at Virginia for the Coastal. Va Tech has won 15 in a row in the series.
23. Oklahoma State
Last Week: W over West Virginia 20-13
The Cowboys may be down Spencer Sanders, but were able to pull out the close win vs WVU. Up next is Bedlam vs Oklahoma. Without Sanders, they will need a huge game from RB Chuba Hubbard.
24. Navy
Last Week: W over SMU 35-28
Navy bounced back from their blowout loss to ND by taking down SMU. Up next is a trip to Houston and, depending on the Memphis/Cincy game Friday, the Midshipmen may have a shot at the AAC Title with a win.
It was a Crosstown Showdown… and USC wins! 💥@KedonSlovis broke the USC record for most pass yards in a single game with 515. AND @tswag03, @DrakeLondon_, @amonra_stbrown and @MikePitt_Jr all broke 100+ receiving yards. @USC_FB topped UCLA 52-35. ✌️ pic.twitter.com/KmOIBLwCgi

— Pac-12 Network (@Pac12Network) November 24, 2019
25. USC
Last Week: W over UCLA 52-35
The Trojans took down the Bruins and end the regular season a week earlier than everyone else. USC posted an 8-4 record and the Holiday Bowl is a possible bowl landing spot.
26 Tie. Air Force/Virginia
Last Week: W over New Mexico 44-22
The Falcons took care of the Lobos with ease to get to 9-2 on the year. Up next, Air Force faces a solid Wyoming team at home to get to double digit wins.
Last Week: W over Liberty 55-27
The Cavaliers took down Liberty by 28 points and set up a huge game at home for the Coastal Title vs Virginia Tech. They have lost 15 in a row in the series and would love to cap off the season with a win over the Hokies and a Coastal division title.
-Next Teams Up-
Iowa State
Last Week: W over Kansas 41-31
UCF
Last Week: W over Tulane 34-31
SMU
Last Week: L vs SMU 35-28
Kansas State
Last Week: W over Texas Tech 30-27
UL Lafayette
Last Week: W over Troy 53-3