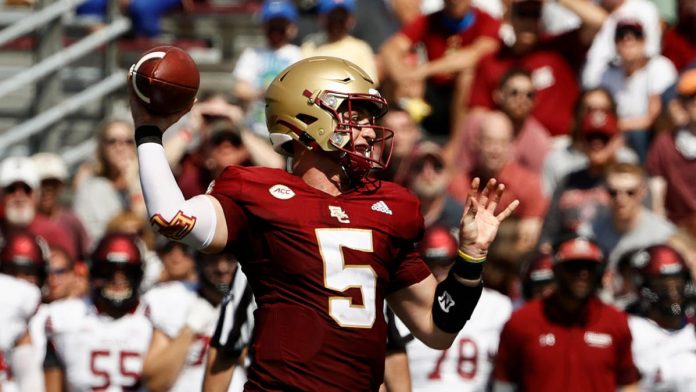 Over the next few weeks, I will be making my way around the ACC, and checking in on their spring camps. I'll give you my insight and begin to pull back the curtain on the upcoming season.
We start all the way up north in Chestnut Hill, Massachusetts where Boston College is coming off of a 6-6 season, entering year three of the Jeff Hafley era. Let's get into some of their storylines.
Some new faces in the coaching staff
The Eagles lost two key assistants this offseason. Offensive coordinator Frank Cignetti went to Pitt, while offensive line coach Matt Applebaum took a promotion to the NFL.
Taking over the main offensive coaching duties will be John McNulty, who most recently coached the tight ends at Notre Dame. McNulty has served under several pedigrees in both the NFL and college, so it will be interesting to see which concepts he integrates with this personnel.
Like Cignetti, McNulty has always seemed to find creative ways to get his best playmakers the ball, which in this case will be Zay Flowers. Also, expect a transition to a pro-style offense, emphasizing quarterback Phil Jurkovec's ability to digest coverages, to one predicated more on quick reads.
"This is what I ran at West Virginia. So it's kind of more comfortable for me than the last offense. … It's getting easier, and the coaches are doing a great job explaining everything."

— BC RB Alec Sinkfield, who transferred in from WVU last year, on OC John McNulty's scheme

— Andy Backstrom (@andybackstrom) April 7, 2022
Why has everyone forgotten about Phil Jurkovec?
Speaking of Jurkovec, he has, for whatever reason, been excluded from the discussions of the best ACC quarterbacks in 2022. Many were extremely high on him going into last season, but a Week 2 injury took him out for most of the year. He did end up returning later on but was clearly not in full form.
This time around, he will be 100% healthy and ready to put himself back on the map. If Jurkovec adapts to the offensive system quickly, he has the full prototype to be a legitimate NFL prospect.
Anybody remember this sequence by Phil Jurkovec to start the game against Clemson? He put the country on notice.pic.twitter.com/4jN1YLil00

— Dan Siegel (ACC Content) (@ACContent__) February 26, 2021
Turnover on the offensive line
As alluded to, the Eagles are without their highly successful offensive line coach from the past several years. They also are losing four of their five starters from a group stacked with elite talent.
There's one thing we do know for certain: Christian Mahogany will be there. The All-ACC guard is a fantastic anchor point for that unit.
The other four starters are uncertain. What we have heard is that redshirt freshman Drew Kendall has been impressive at center. There is plenty of size and skill at the tackle positions as well. The question is simply how long it takes from the group to come together and begin to replicate the program's dominance at that position in the past.
"I'm really proud of and impressed with how those guys gelled together. Because that's going to be what everybody questions on us this year, right? It's the O-Line. It's really the one spot we lost players. I think they took a huge step."

— Hafley on BC's O-Line progression

— Andy Backstrom (@andybackstrom) April 7, 2022
Up Next: Pittsburgh