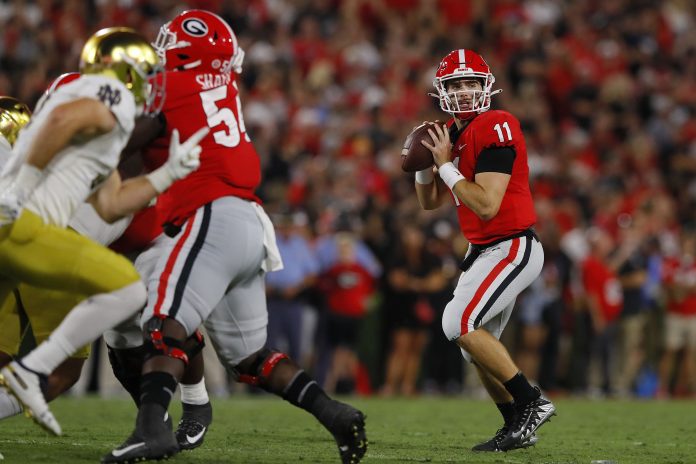 1. Clemson (Last week: 1)
Last Week: W over Charlotte 52-10
Clemson continues to take care of business. Their toughest remaining game could be in the ACC championship game. This week the Tigers play North Carolina on the road. Could it be a sneaky game?
2. Alabama (2)
Last Week: W over Southern Miss 49-7
Alabama easily beat the Golden Eagles, but the injuries are starting to pile up on the defense. They get Ole Miss at home this week, before a bye week.
3. Oklahoma (3)
Last Week: Bye
The Sooners had a bye week last week to look over film for their first Big 12 game this week vs Texas Tech.
4. LSU (4)
Last Week: W over Vanderbilt 66-38
The Tigers offense is looking like it never has before, but the defense allowing 38 points is a concern. LSU gets a bye week this week to prepare for a sneaky tough game against Utah State.
Relive the best moments from Week 4️⃣#ATD #GoDawgs pic.twitter.com/Yp4KQfOURJ

— Georgia Football (@GeorgiaFootball) September 24, 2019
5. Georgia (5)
Last Week: W over Notre Dame 23-17
The Bulldogs won a huge game over the Irish to keep themselves inside the Top 5. This is a clear SEC and CFP Contender. They get a bye week to prepare for Tennessee next.
6. Ohio State (6)
Last Week: W over Miami Oh 76-5
The Buckeyes have not been stopped at all on offense this year and last week was no different. Ohio State travels to Lincoln this week, which is sneaky because the Big Ten West has been a thorn in the Buckeyes side the last couple years.
7. Wisconsin (16)
Last Week: W over Michigan 35-14
The Badgers have been about as dominant as they possibly can be through 3 games. They make a jump into the Top 10, as they have outscored opponents 145-14. They face Northwestern at home this week.
Balanced attack‼️🔥#WarEagle x #RidefortheBrand pic.twitter.com/q6QqZZM92D

— Auburn Football (@AuburnFootball) September 23, 2019
8. Auburn (15)
Last Week: W over Texas A&M 28-20
Auburn continues to win against ranked teams (Oregon, A&M) The schedule still has a lot of tough games, but for now they are surviving. This week the Tigers take on Mississippi State at Jordan-Hare.
9. Notre Dame (9)
Last Week: L vs Georgia 23-17
The Irish may have lost, but they showed that they belong in the Top 10. Ian Book had the ball with a chance to win it, but came up just short. ND doesn't drop a spot in my rankings. The Irish are facing Virginia at home this week.
10. Penn State (10)
Last Week: Bye
Penn St got a bye week to prepare for their rival. This week they go on the road to face Maryland. It will be the Nittany Lions first test of the year and a chance to secure a Top 10 spot.
🤘@TexasFootball put a stop to Oklahoma State's 4-game winning streak agains the Longhorns with a 36-30 win.

Catch all the highlights in our 60' in 60" 👇pic.twitter.com/3fUVfjIpEC

— FOX Sports (@FOXSports) September 22, 2019
11. Texas (13)
Last Week: W over Oklahoma St 36-30
Texas bounced back off of a tough loss at home vs LSU. The Longhorns held on vs a tough Cowboys team. Up next is a bye week, before a road game vs WVU.
12. Florida (11)
Last Week: W over Tennessee 34-3
The Gators continue to win games, but for some reason they still don't look impressive. Kyle Trask has to lead the way for Florida now and will get an easy game at home this week vs Towson.
13. Iowa (17)
Last Week: Bye
The Hawks got a much needed bye week to help heal some players and now they get Middle Tennessee at home, before Big 10 play begins.
Full game highlights from this weekend's win over Stanford. #GoDucks pic.twitter.com/UmVk6UyfoI

— Oregon Football (@oregonfootball) September 23, 2019
14. Oregon (20)
Last Week: W over Stanford 21-6
The Ducks got a win over a Stanford team that is reeling badly and made a big jump in the rankings. They get a bye week before a game against the crazy California defense.
15. Washington (21)
Last Week: W over BYU 45-19
The Huskies blew out BYU in what was expected to be a close road game. This week they face USC at home in what is a bigger game than the preseason expectations.
16. Utah (7)
Last Week: L vs USC 30-23
The Utes took a big shot to their CFP hopes with a loss on the road to the Trojans. They will look to bounce back against Washington State this week.
17. Boise State (22)
Last Week: W over Air Force 30-19
The Broncos continue on their push to my 12-0 prediction with a win over a feisty Air Force team. The concern is all of the hits piling up on QB Hank Bachmeier. Up next is a bye week for Boise, before a trip to UNLV.
#3️⃣3️⃣ to the 🏡 #GoHoos | #TheStandard 🔸🔹 pic.twitter.com/JiUlDl4hwV

— Virginia Football (@UVAFootball) September 23, 2019
18. Virginia (23)
Last Week: W over Old Dominion 28-17
Virigina struggled vs ODU ahead of a huge game against Notre Dame, but got a pick 6 to help them through. As mentioned, they travel to South Bend this week with a massive chance to move in the polls.
19. California (25)
Last Week: W over Ole Miss 28-20
This Golden Bears team is arguably the most surprising of 2019, but their defense is for real. They are 4-0 despite not scoring over 30 points in any game. This week Cal plays Arizona State at home as they look to stay undefeated.
20. Memphis (24)
Last Week: Bye
Memphis had a bye last week to prepare for the Navy triple option. This could be a tricky game, as Navy has outscored opponents 87-17 through 2 games.
Things we know:

Today is the 23rd of the month. @JayT23 wears No. 23.
He rushed 23 times on Saturday with 203 yards vs. Michigan.

Can't stop. Won't stop. @BadgerFootball #SlowMoMonday pic.twitter.com/2HkWrD2WbS

— Wisconsin On BTN (@WisconsinOnBTN) September 23, 2019
21. Michigan (8)
Last Week: L vs Wisconsin 35-14
Nothing really to say about that game. Michigan played bad and got destroyed. They get Rutgers at home, before Iowa comes to town. They have some problems to fix.
22. Wake Forest (26)
Last Week: W over Elon 49-7
Easy win for the Deacs at home over the weekend against Elon. Up next, Wake travels to Boston College to try to get to 5-0. Don't look now, but Wake Forest could be 9-0 heading into Clemson.
23. USC (NR)
Last Week: W over Utah 30-23
3rd String QB? No problem. The Trojans pulled of the upset behind the arm of Matt Fink, who almost transferred. The schedule still is pretty tough with 5 potential losses, but the Trojans are playing well. Up next is a trip to Washington, one of those 5 potential losses.
24. Michigan State (NR)
Last Week: W over Northwestern 31-10
That Spartan defense is crazy good, but I am still not quite sold on the offense. It looked better this week, but it's not there yet. This week Indiana comes to town, before Sparty travels to Ohio State.
Victorious in the Battle of the Iron Skillet for the first time since 2011. #PonyUpDallas 🔴🔵 #TCUbeat pic.twitter.com/DmX9CbYFsC

— SMU FootbaII (@SMU_Football) September 22, 2019
25. SMU (NR)
Last Week: W over TCU 41-38
How about the Mustangs? 4-0 and the Iron Skillet is theirs. SMU is playing really well right now. This week they travel to USF, who has been very unimpressive so far.
26. Appalachian State (NR)
Last Week: W over North Carolina 34-31
The Mountaineers got through 1 of 2 P5 opponents on their schedule. An 11-12 win season could be in the cards for App State. They get a 3-1 Coastal Carolina team at home this week to move to 4-0.
-Next Teams Up-
Kansas State
Last Week: Bye
Army
Last Week: W over Morgan State 52-21
Minnesota
Last Week: Bye
Baylor
Last Week: W over Rice 21-13
Utah State
Last Week: W over San Diego State 23-17
Pittsburgh
Last Week: W over UCF 35-34