It's been since early March since we have had a college basketball game. Unless you've been living under a rock or on Mars, we all know by now that COVID-19 has affected literally everything from sports to everyday life. When the pandemic first started, most of us did not think it would turn into this and last this long. Conference Tournaments were canceled last March, followed by the greatest sporting event in the country, March Madness. When these events were canceled, we knew this virus was not going anywhere and that it was going to get worse.
Fast forward about 8 months to now, and the virus is still here. But college basketball will be played this season with many restrictions ranging from limited or no fans, frequent testing among players and coaches, a potential March Madness "bubble," etc. The sport will look different. Games will be canceled, postponed to another date, etc. So buckle up, and get ready for the weirdest college basketball season ever.
The Top 5
The Big 12 has arguably been the best conference from top to bottom for the past several years. Last year was no different, with Kansas bouncing back to win the regular season title at a 28-3 (17-1) record. Baylor finished 2nd, while a four-way tie for 3rd consisted of Texas, Texas Tech, Oklahoma, and West Virginia. There was a big drop off after these teams, and the 2020-21 season looks to be similar.
The conference this year appears to be very top-heavy with Kansas, Baylor, West Virginia, Texas Tech, and Texas leading the way. The other teams will primarily be in a rebuilding phase, but the competition in the top half should be very interesting and strong. The Big 12 has three Final Four caliber teams (Kansas, Baylor, West Virginia), while Texas Tech and Texas have the ability to make a run and win a few games come March. These are the top 5 teams in the conference. We will preview each of them, returning key players, predictions where they will finish in the Big 12 standings, and how far they'll go come March.
T1. Baylor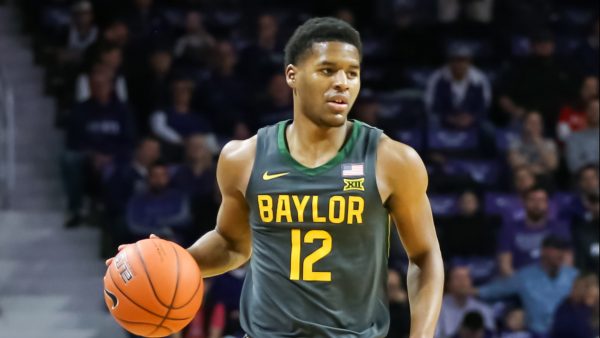 2019-20 Record: 26-4 (15-3)
Coming off one of the best Baylor basketball seasons ever, Baylor will be just as scary or even better this year in 2020-21. Having one of the best players in the entire country coming back will be a huge bonus for the Bears. Jared Butler, who averaged 16 points per game last season, will be back. He also averaged over 3 rebounds and 3 assists per contest. Alongside Butler, Baylor returns two other top guards from a year ago, Davion Mitchell and MaCio Teague.
Baylor will head into the 2020 season with arguably the best guard trio in the entire country. Mitchell, who was a semi-finalist for the Defensive Player of the Year Award will bring intensity on the defensive end of the court, while Teague will bring back his offensive presence. Teague averaged almost 14 points per game and 5 rebounds per contest a season ago.
Although they lost F Freddie Gillespie, Tristan Clark looks to be the main man down low in 2020. With the talented trio of guards, Clark will bring another element down low. Expect Baylor to be as successful as they were last year, maybe even a little better. As they say, "good guard play takes you far in the tournament." If you look back at most of the previous NCAA Tournament winners, you'll notice they had really good guards who can get it done on both ends of the court. Baylor will finish at the top of the Big 12, reach the Final Four, and maybe even cut down the nets.
Regular Season Prediction: T-1st
March Madness Prediction: Final Four/Championship Game
T1. West Virginia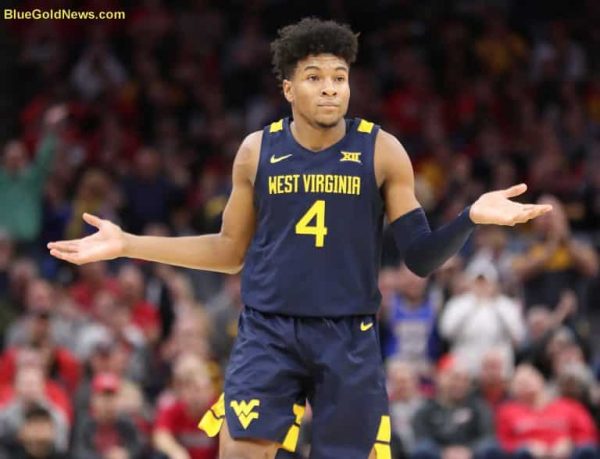 2019-20 Record: 21-10 (9-9)
Don't look now, but here comes Bob Huggins and West Virginia. The Mountaineers are coming off a bounce back season in which they tied for 3rd in the conference with Texas Tech, Texas, and Oklahoma. West Virginia returns almost all of their production from a year ago, headlined by their front court, Oscar Tshiebwe and Derek Culver. Both of these forwards have made their presence known on the glass last year. They will again be relied upon to score the ball down low and rebound the ball at a high rate both defensively and offensively. At the guard positions they return Jordan McCabe, Miles (Deuce) McBride, Sean McNeil, and Taz Sherman. All of these players saw a lot of minutes last season and expect to pick back up where they left off.
Miles McBride seems to be destined for a breakout season this year after seeing flashes of it last year as a freshmen. Expect McBride to pick it up and lead the team in scoring this year. West Virginia will need the other guards like McNeil and Sherman to be able to knock down outside shots. If the Mountaineers are hitting outside shots, they can be a Top 5 team in the country. You know you are going to get an in-your-face defense and exceptional rebounding team from Bob Huggins. If they can shoot the ball better, watch out. West Virginia will continue what they've been doing in years past under Bob Huggins. Expect them to shoot the ball better this season from the outside. This team could potentially make a run at the Final Four and maybe a championship game appearance.
Regular Season Prediction: T-1st
March Madness Prediction: Final Four/Championship
3. Kansas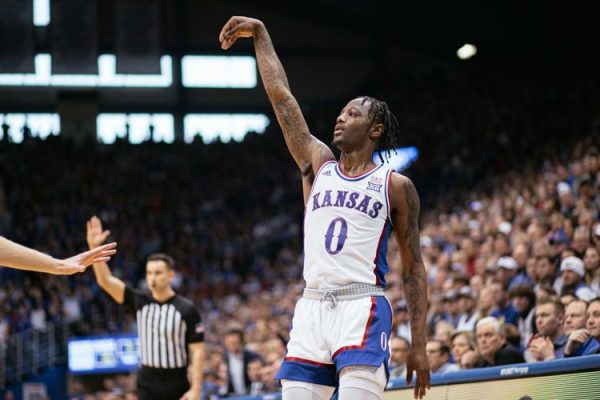 2019-20 Record: 28-3 (17-1)
After winning another regular season title in 2019-20, Kansas looks to repeat again. Kansas loses the most production out of all of these teams in the top 5, but Bill Self knows how to reload and win. Some key parts that were lost for Kansas include Devon Dotson (18 points per game, 4 rebounds, 4 assists) and Udoka Azubuike (13 points per game, 10 rebounds). These two were the guard-forward combo that the Jayhawks relied upon not only for scoring and rebounds, but for being the floor leaders for their respective team. Losing these two players will be a huge loss for Kansas, but there is no reason why Kansas will see any major drop off when it comes time to tip it off.
Kansas' top returning player is Marcus Garrett, a guard who almost averaged 10 points per game a season ago while leading the team in assists. His presence will be needed to lead a younger Jayhawk team to more success. Kansas' top recruit is 5-star guard, Bryce Thompson. They also signed another top recruit in guard Tyon Grant-Foster. Look for these two to make an immediate impact at the guard position along with Marcus Garrett. Kansas  be a more guard-oriented team in 2020-21, especially after losing Udoka Azubuike. Expect Kansas to make a run for the Big 12 regular season title and Final Four, but they'll fall short of both of these goals.
Regular Season Prediction: 3rd
March Madness Prediction: Sweet 16
4. Texas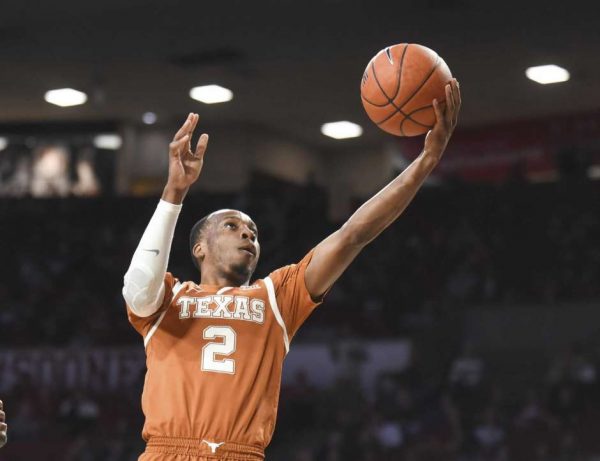 2019-20 Record: 19-12 (9-9)
Texas should be one of the most improved teams in the conference this season. A 19-12 (9-9) record is not bad by any stretch of the imagination, especially in the Big 12, but this team's ceiling increases a good bit this upcoming year. Two of Texas' best players from a year ago are returning in G Matt Coleman and F Jericho Sims. They also return G Andrew Jones, a very good offensive weapon for the Longhorns.
The top newcomer for the Longhorns is Greg Brown III, a forward that stands at 6'9″. He is expected to make an immediate impact down low with Sims. Altogether, this is probably the most talented team Shaka Smart has had in Austin since his arrival. If Texas wants to have a special season, this might be the year to do it. The Longhorns will make a run at the the Big 12 regular season title, but will fall short. They will be very dangerous in March, and nobody will want to play them. The Longhorns just miss the Final Four, but get to the Elite Eight. This  will be Shaka Smart's best season in Austin yet.
Regular Season Prediction: T-4th
March Madness Prediction: Elite Eight
5. Texas Tech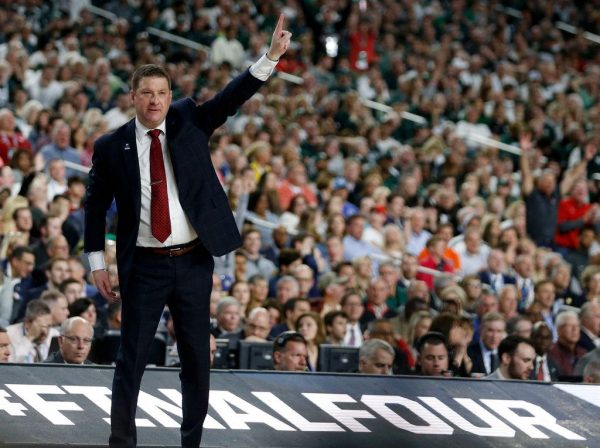 2019-20 Record: 18-13 (9-9)
Chris Beard and the Red Raiders have really improved since Beard took over in 2016. Texas Tech has seen success on the hardwood that they hadn't seen in a long time. For starters, Tech made it all the way to the national championship game during the 2018-19 season, falling short to Virginia. During last season, Tech had a good season, but not a great one like the year before. Last season, they finished 18-13 (9-9). There is a lot of hype surrounding this team for this season, especially because of Georgetown transfer, Mac McClung. McClung comes over from the Hoyas averaging a little over 15 points per game and 2 assists. He is a quick, shifty ball handler who can shoot the ball from anywhere on the floor.
The Red Raiders also return two starters from last season, forwards Kyler Edwards and  Terrence Shannon Jr. Tech also landed another transfer from the east coast in Marcus Santos-Silva from VCU. The two key departures from their roster include Jahmi'us Ramsey and Davide Moretti. Losing these two pieces will make for some new players needing to step up to fill the void. Mac McClung should be able to come in and lead on both ends of the court. Chris Beard is also one of the best coaches in the entire country, so you know his Red Raiders will not miss a beat come 2020-21. Expect Texas Tech to get back to the NCAA Tournament after another successful season, but fall victim to a second round loss.
Regular Season Prediction: T-4th
March Madness Prediction: Second Round