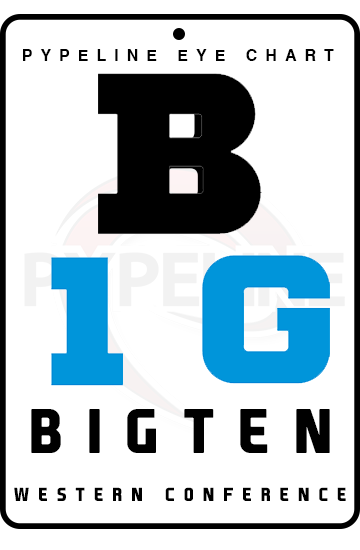 Each week we watch every B1G game. Instead of a power rankings or advanced stats, we are going to rank the teams based off of one thing and thing only: the Eye Test. What goes into a good eye test? First you have to prove you can block. This is the B1G, and if you can't block, you can't win. You need to have playmakers, you need to be able to tackle in the open field, you need to make adjustments at halftime, and you need to call good plays. What you do needs to be replicable and dynamic. Losing because you fumbled 3 times isn't going to kill you. Winning without establishing the line of scrimmage will. We know who you are as a program, and we know what your team needs to do to perform well. If we didn't take that that into account, we'd be lazy scum. Now, let's get to it.
Ohio St

No surprises at the top. Urban Meyer's absence did nothing but motivate the team to play mostly well. Mike Weber put on a show with 186 yards and 3 TDs. Let's not forget Dwayne Haskins looked sharp slinging 5 touchdowns at 10.4 yards a pop. The offense is dynamic and full of athletes. If there is any criticism to be had, it's with the linebackers and safeties giving up big plays.

Wisconsin

Guess what. Wisconsin's offensive line is a good. The unit took a step forward in pass protection with Cole Van Lanen taking over at left tackle. Heismanbrook had his third consecutive 200-yard game and second with no interceptions. He looked much improved from last season, but this was only Western Kentucky. The defense was not the wrecking crew of yesterday, as several players were getting their first start. However, safety Scott Nelson put on a clinic, and the unit only allowed 3 points.

Iowa

After a slow start, including a blocked punt, some drops, and a change at middle linebacker, Iowa put up the best performance of the weekend no one is talking about. The defensive line dominated. Iowa showed an ability to get after the QB they haven't shown in years. Three running backs proved to be viable options with Toren Young leading the lot (oddly seeing most of his action in the second half). Iowa can punt again, meaning long brutal drives against another stout Iowa defense. Next week Iowa gets their starting offensive tackles back.

Northwestern

Northwestern RB Jeremy Larking – Joe Robbins/Getty Images

RB Jeremy Larkin stepped up. B1G fans hoped for relief from RB Justin Jackson's brutal efficiency, but all they will get is suffering. It wasn't the sexiest of wins. QB Clayton Thorson did not appear fully healthy, and the defense experienced some growing pains. You might even say they lack playmakers. But Northwestern can play that game all year long and beat you. They converted third downs, stuffed the run, and ran a varied and efficient offense. It is no wonder they have the longest current winning streak of any P5 team.

Maryland

In the last two years, Maryland posted more win vs Texas than Nebraska did their whole time in the Big XII. They did it by taking it to Texas with speed and flair. Turns out having your first and second string QBs changes quite a bit. True freshman Jeshaun Jones caught a touchdown, threw a touchdown, and rushed for a touchdown in his college debut. No big deal. Texas may be poorly run, but they have plenty of athletes. And Maryland out athlete-ed them.

Penn State

Penn State QB Tracey McSorley – Getty Images

We were SO close to another App State miracle, but then Trace McSorely happened. And that is exactly why they come out of a head of similarly performing teams. With their backs against the wall, McSorely proved once again he can produce a little magic. The defense looked inexperienced. Sanders is not quite Barkley. Gesicki is missed. Penn State still has lot of dudes that we're just waiting to shine.

Michigan State

Another typical slow start from Sparty. They were unprepared for Utah State's up tempo offense. They gave up 300 plus passing yards, and did not have their way on the ground attack. Even so, the defense showed the talent that produced 2017's second best rush defense. And Joe Bachie is still Joe Bachie.

Purdue

Rondale Moore is unstoppable 🔥🔥🔥🔥🔥🔥🔥🔥🔥🔥🔥🔥🔥🔥🔥🔥🔥🔥🔥🔥🔥🔥🔥🔥🔥🔥🔥🔥🔥🔥🔥🔥🔥🔥🔥🔥🔥🔥🔥🔥🔥🔥🔥🔥🔥🔥🔥🔥🔥🔥🔥🔥🔥🔥🔥🔥🔥🔥🔥🔥🔥🔥🔥🔥🔥🔥🔥🔥🔥🔥🔥🔥🔥🔥 pic.twitter.com/BJQ2rbwLOo

— NCAAF Nation (@NCAAFNation247) August 31, 2018

Rondale Moore is a dude! He lead the team in receiving and rushing Thursday night, and boy was it a delight. Otherwise, the Boilermakers all but gave up on the rushing attack. QB Elijah Sindelar was shook at times, and Purdue still had a chance. Looks like the Boilermakers are going to utilize two QBs again. D.J. Knox may have been out rushed by Moore, but he showed the fast twitch need to make some plays. Jury is still out on the defense, as it looks like it's going to be a growing process.

Michigan

Sure a one possession loss on the road to the number 12 team in the country doesn't sound bad, but it sure looked bad. Patterson himself didn't look awful. Neither did any individual on the offense. However, together it was a disaster. Michigan couldn't block Notre Dame to save their life. Braylon Edwards might be on to something when he asked, "Is Michigan better than Iowa?" On the flip side, once Michigan's defense figured out how to handle a mobile QB, they showed you why they are a Top 10 defense. Having one elite unit can take you places.

Indiana

The Hoosiers get the nod at number ten on the back of generally looking solid. Peyton Ramsey grew from last year, and look a decent QB tossing for some 3 touchdowns to just one interception. The defense and run game got in the act with a pick six and some big runs from an assortment of random dudes. If I didn't know better I'd call Indiana Spo0ky.

Rutgers

Rutgers is a decent football team. If they weren't in the Big East, they would be considered a dark horse contender. The offense looked more polished than most Scarlet Knight teams. QB play improved leaps and bounds from 2017, and they showed some athleticism. RB Raheem Blackshear and company can get the job done on the ground. It'ss a shame they play in B1G East where wins will be hard to come by.

Minnesota

The Gophers ran all over New Mexico State. Rodney Smith had 153 yards and Mohammed Ibrahim added another 101. That wasn't too surprising. The biggest surprise is true freshmen QB Zack Annexstad looking like a competent QB. He tossed for more than 200 yards, 2 touchdowns, and a few freshmen mistakes. The defense looks to have some interesting pieces, but it still work in progress. Neither offense nor the defense is good enough to really scare the top teams in this conference, but proof of concept from P.J. Fleck is starting to emerge.

Illinois

Well they didn't lose. It wasn't pretty, but they didn't lose. The Illini's best player, WR Mike Dudek, suffered his 3rd season ending injury. The first half was a comedy of errors and I'm-ready-to-move-on-from-the-Lovie-Smith-experience. But maybe some consistency is what the program needs. Recruiting has drastically improved. The once again young team could surprise us, but they don't look physically ready to play week in and week out in the B1G.

Nebraska

Illinois may have looked shaky and bad, but Nebraska was invisible out there. The Black Shirts defense recorded zero tackles for a loss, zero sacks and forced zero turnovers. The offense was equally anonymous. Adrian Martinez showed nothing at the QB position worth and value and Scott Frost still hasn't won a game in Lincoln.