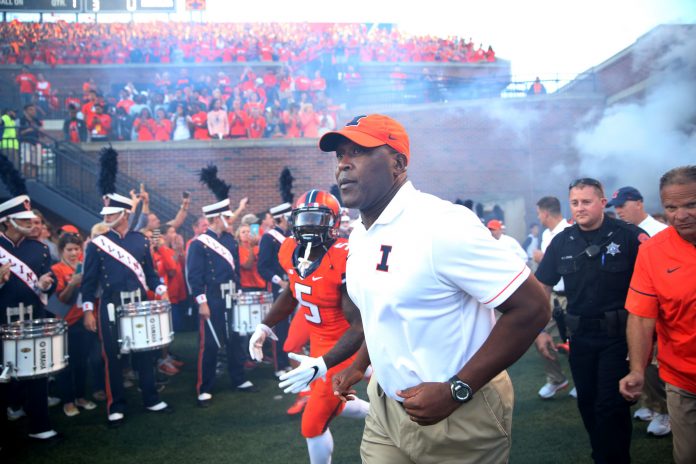 Broadcast Information
Date: September 15th, 2018
Game Time: 3:30 PM ET
Venue: Soldier Field, Chicago, IL.
Television Network: BTN
Illinois (2-0) vs. USF (2-0)
Illinois comes into this game having beaten two inferior opponents in Kent State (35-28) and Western Illinois (34-14). We haven't learned much yet about how good this revamped Illini squad will be this year. This is why it's better to temper the expectations until after this game.
For USF, they opened up with a rather "cupcake" game over Elon (34-14) and handled it as one would expect. Last week was just the opposite as the Bulls had a date with the Georgia Tech Yellow Jackets, and it is safe to say that they were truly tested. It took a remarkable fourth quarter rally from junior QB Blake Barnett to lead USF to a 49-38 victory. This is a team that was predicted to finish second in their conference to undefeated #18 UCF.
Why USF Can Win
Standout QB Quinton Flowers is gone but no need to fear, junior Alabama transfer QB Blake Barnett is here. He has enjoyed a really strong start to his 2018 season completing 69.2% of his passes for 512 yards, 5 TD, and an INT. He is a vital part of what is an explosive offense. If he is to have success against the Illini, he will need to have his favorite target, senior WR Tyre McCants (season stats: 16 rec, 125 yards and TD) put up a big time performance. Jordan Cronkrite, the former junior Florida RB, is often a player that is slept on. Despite his limited usage, he is still capable of taking a carry for 50+ yards on any play.
Special teams will also have a great impact on whether USF can pull out the victory on Saturday. Freshman WR Terrance Horne, might already be one of the few elite kick returners in college football. Last week he returned two kickoffs for touchdowns, both for 98 yards. That isn't a luxury every team has. If #80 in green gets the ball, he could be making more headlines in the college football world.
Why Illinois Can Win
The Fighting Illini have legitimate QB depth this year, as both 5th year senior QB AJ Bush (left and returned to game because of injury) and freshman QB MJ Rivers both played well against Western Illinois last weekend. Most Illini fans loved what they saw out of the freshman QB and are awaiting to see who will be under center on Saturday. (Our money is on AJ Bush, barring any injury.) Also, sophomore RB Mike Epstein led Illinois in rushing with 108 yards on 8 carries. He was followed by change of pace RB, Reggie Corbin, who tallied 63 yards and a TD on 15 carries. Illini fans will also being getting some good news this weekend. Sophomore standout WR Ricky Smalling will be back on the field after missing last week.
The Illini defense will have to play up to par if the Illini are going to pull off the upset this weekend. It is still unclear if the suspended players/injured players of this strong secondary (sophomore DB Nate Hobbs, sophomore DB Bennett Williams, and DB Tony Adams) will be back. This would be a major boost to the defensive depth of the Illini. Key players to watch are sophomore LB Jake Hansen and walk-on freshman DB Michael Marchese. Hansen has been performing at a very high level and has easily been the best player on the Illini defense this season. Michael Marchese received some nice playing time last week and repaid HC Lovie Smith's trust with his first career INT. We'd like to see if Marchese can step up to the competition and have another positive performance this year.
What will happen
USF played Illinois last year at a neutral site, after a storm forced officials to change the location of the game. The game wasn't close, as USF beat down the Illini 47-23. After that embarrassing loss, the Illini program wants some revenge.
Expect this game to be a high scoring shootout, as both offenses will want to enforce an up-tempo style of play. Nothing will separate the two teams at the half, as both defenses will have to find a way to step up in the second half. The team that wins the turnover battle will emerge victorious. Both teams take care of the ball pretty well, and this game will come down to one team making a mistake.
Prediction
USF 38 Illinois 34
Line: USF -11 o/u 59