As the ACC college football season has kicked off, it is time to talk about the best aspect of this beloved sport. The games? No. The food? No. The uniforms? No. Well then, what is it? The tailgating, of course! There is nothing better than waking up on a cool and sunny fall Saturday just to spend all day at a tailgate in support of your favorite team.
Tailgating is a staple of the ACC football experience, but just which ACC school has the best?
#15 Duke
It has been known for years now that the Duke tailgate atmosphere has been subpar. This is probably largely due to the lack of success by the football program in recent history. But any tailgate is better than no tailgate.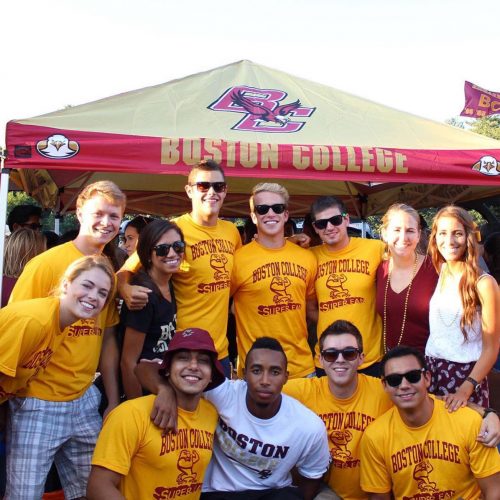 #14 Boston College
Fans of Boston teams certainly know how to party, but a college team can get lost in the shuffle of a professional sports major market city. Eagles fans can throw a good tailgate, but if it isn't a major game, then the atmosphere can be kind of lackluster.
#13 Wake Forest
The only thing that really hinders a Wake Forest tailgate is the school's size. With less than 10,000 total students, the tailgate atmosphere can only be but so lively.
#12 Virginia

The pregame activities on the "grounds" of UVA can be lively, but are often disjointed. Usually, it's spread out throughout campus or along University Avenue. Can be a fun gameday experience, but be ready to walk quite a bit.
#11 Syracuse
Much like UVA, the gameday atmosphere near the Carrier Dome is normally spread out and disconnected. Frat and sorority houses are most often the tailgating hotspots. It's still a fun atmosphere, but wear comfortable shoes.
#10 Pittsburgh
Now going the exact opposite direction from UVA and 'Cuse, Pitt's tailgating experience is very compact and close to Heinz field. The downfall? Most tailgates occur under highway off ramps and bridges in the midst of a concrete jungle. So if you like tailgating in an urban setting, Pitt is the place for you.
#9 Georgia Tech
The Ramblin' Wreck faithful have found some scenic spots to pregame. Locations throughout the campus like IC Lawn or near the Fifth Street Bridge are great spots to have a drink and gather with friends before a game, while also catching a beautiful view of the Atlanta skyline.
#8 Miami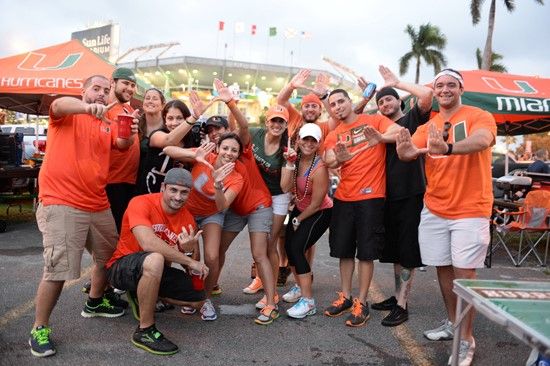 While many think of Miami as a pro sports town, the Hurricanes can hold their own when it comes to a partying. Look for a sea of orange and green outside of Hard Rock Stadium complete with flashy outfits, grills packed to the brim, and plenty of gold chains.
#7 Louisville
Cardinal Stadium is built on top of an old train yard, so there is plenty of room to tailgate here. On thing that makes the Louisville tailgate experience unique to others is the Cardinal Express, old train cabooses that can be rented out for tailgate parties, to have a drink and make new friends before kickoff. Lively and festive atmosphere right outside the stadium.
#6 North Carolina
A UNC tailgate occurs in and amongst the pines of the famous campus. Tar Heel fans love to a have large spread of food and a variety of drinks on the ready for family and friends. Many take in the pre-game activities by walking through the campus and even stopping by the famed Old Well.
#5 Notre Dame
Yes, I know Notre Dame is not an official ACC member, but you can't dispute that it is a great place to tailgate. The Irish faithful are super inviting to opposing team's fans and know how to be a good host. The pleasant Midwestern attitude adds to the charm of walking by Touchdown Jesus or strolling by The Grotto as fans light candles, probably wishing their team the best of luck. Bundle up and and drink something warm to properly enjoy an Irish tailgate.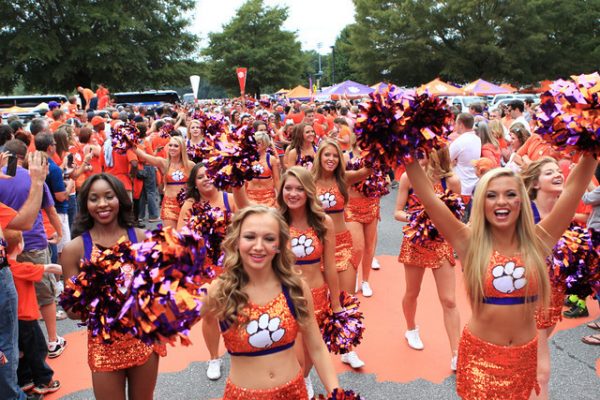 #4 Clemson
When you go to a game at Clemson you know you are in for a good time. Orange and purple flags, tents and attire surround Memorial Stadium as far as the eye can see. The smell of delicately prepared smoked meat fills your nostrils right away and southern charm is not lost on Clemson fans. Everyone instantly becomes your best friend and you will get more drink offers than you can handle. It is a place where fun and football really do come together.
#3 NC State
If you like tailgating in a field with pickup trucks and pig cookers, then NC State is the place for you. Carter Finley Stadium sits on the edge of NC Fairgrounds and is surrounded by nothing but open fields that Pack fans flock to on Saturdays. It is the ideal place to literally sit on a tailgate, have a drink and pick some delicious meat off of a cooked whole hog. Wolfpack Nation welcomes everyone into the fold and is sure to leave you with a lasting memory of Raleigh.
#2 Florida State
The Seminoles know how to tailgate, and tailgate early they do. Things kick off on Friday night in Tallahassee with a Friday night block party, known as the Downtown Getdown. That gets everyone hyped for the following day. Then on Saturday the fans all around the stadium are known to be lively and kick back a few drinks. If you plan to tailgate at Florida State, come ready for a party and a long day full of good times.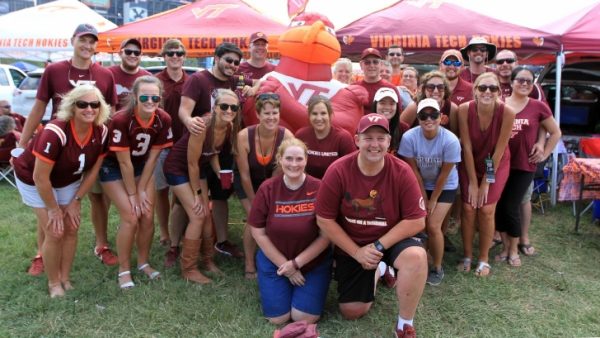 #1 Virginia Tech
We have finally made it to the best tailgating in the ACC. The top spot belongs to the Hokies of Virginia Tech. Everything you could think of, in terms of tailgating, occurs at VT. There are lively fans living it up all around the stadium and throughout the campus. Grills cooking a wide variety of foods, including oversized turkey legs. The weather is usually cool and sunny, perfect for football, with the scenery of rolling hills full of leaves in their full autumn beauty. It is everything you could ask for in a college football atmosphere and that makes it the best in the ACC.
Agree? Disagree? Like? Hate? Let me know your thoughts on these tailgate rankings at @SJWoolard on Twitter.