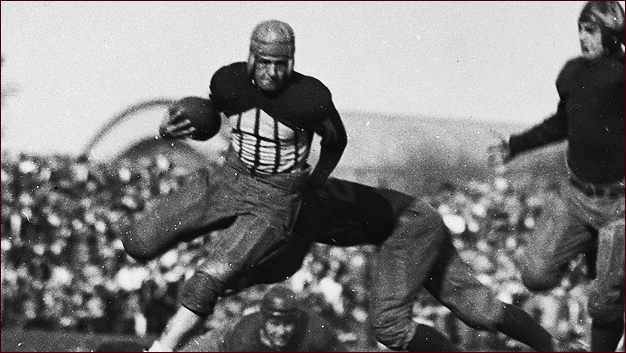 There are 77 days until college football returns. Today we'll look at one of best players to ever put on pads- #77 for Illinois, Red Grange.
Playing from 1923-25, he earned his nickname the Galloping Ghost quickly, as he scored 3 touchdowns in his first game. The game that put him on the map though was in 1924 vs the mighty Michigan Wolverines. They were unbeaten in their last 20 games. But Grange quickly put a stop to that, taking the opening kickoff back 95 yards to the house. In less than 12 minutes, he scored 3 more touchdowns on runs of 67, 56, and 44 yards. He would later run another one in and passed for another, finishing off a resounding 39-14 victory.
In his career, he rushed for 3,362 yards, had 253 receiving yards, and had another 575 yards passing. He totaled 33 career touchdowns, including 16 that were at least 20 yards, and 9 that were at least 50. He was a 3-time consensus All-American, won Big Ten Player of the Year in 1924, and also won a National Championship with Illinois. His #77 is retired for the Fighting Illini. He was inducted into the College Football Hall of Fame in 1951.