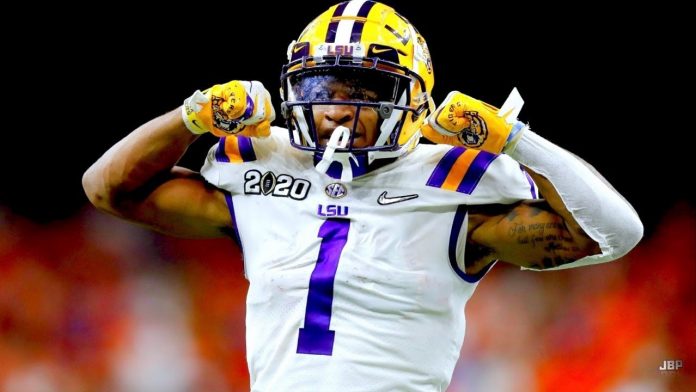 The SEC has some of the most explosive players in the country. So it comes as no surprised that there is a plethora of talent at the Wide Receiver position. Here are the Pypeline 2020 rankings of the SEC Wide Receivers.
1. Ja'Marr Chase – LSU
Chase is the top returning WR in college football. Nobody had a better season than him in 2019. Last year he caught 84 passes for 1,780 yards and 20 touchdowns while averaging an excellent 21.2 yards per catch. He will likely be a top 10 pick.
2. DeVonta Smith – Alabama
Smith is one of the best players in college football in 2020. He is a dynamic playmaker with good speed and acceleration. In his career he's caught 118 passes for 2,109 yards and 23 touchdowns while averaging 17.9 yards per catch.
3. Jaylen Waddle – Alabama
Waddle has a chance to be the top wide receiver in college football this season. He is a big play threat who averages 18.1 yards per catch. He's caught 78 passes for 1,408 yards and 13 touchdowns in 2 seasons.
4. George Pickens – Georgia
Pickens impressed last season as a freshman. He is the leading returning receiver for the Dawgs after catching 49 passes for 727 yards and 8 touchdowns. A very bright future ahead for Pickens.
5. Seth Williams – Auburn
Williams is the leading returning receiver for Auburn after a big 2019 season. Last year he caught 59 passes for 830 yards and 8 touchdowns while averaging 14.1 yards per catch.
6. Terrace Marshall – LSU
Marshall Jr has been a TOUCHDOWN machine for the Tigers. Last season he caught 46 passes and he took 13 of those to the house. He averaged 14.6 yards per catch last season while hauling in 671 yards.
7. Damon Hazelton – Missouri
Hazelton is now on his third college football team after playing for Ball State & Virginia Tech. He has been extremely productive in his career with 133 receptions for 1,834 yards 20 touchdowns.
8. Elijah Moore – Ole Miss
Moore had a big season in 2019, catching 67 passes for 850 yards and 6 touchdowns while averaging 12.7 yards per catch.
9. Trevon Grimes – Florida
Grimes is a 6'5″ matchup nightmare and former Ohio State Buckeye. In his career he has caught 62 passes for 875 yards and 5 touchdowns while averaging 14.1 yards per catch.
10. Anthony Schwartz – Auburn
Schwartz is lightning fast, possibly the fastest player in college football. He is a weapon in the passing game and rushing attack. In his career he has caught 63 passes for 797 yards and 3 touchdowns. He has also rushed for 329 yards and 7 touchdowns while averaging 8.7 yards per carry. Plenty of upside with Schwartz.
Just Missed
Shi Smith – South Carolina
Josh Palmer – Tennessee
Kadarius Toney – Florida
Demetris Robertson – Georgia
Treylon Burks – Arkansas
Osirus Mitchell – Mississippi State
Jhamon Ausbon – Texas A&M