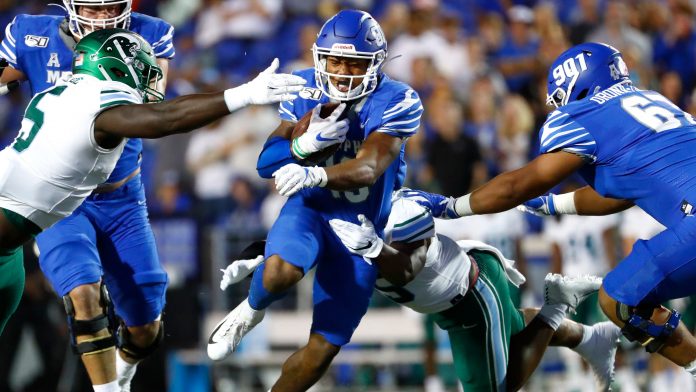 Week 8 is in the books. However, before we turn the page to Week 8, we need to recognize the Pypeline Top 10 Players of the Week. These are the players that stood out, putting up huge numbers, often helping to carry their team victory. So without further ado, here they are.
1. Kenneth Gainwell, RB, Memphis

Choo-choo! The Tigers RB train keeps rolling along. The latest man driving the engine is Kenneth Gainwell. Against Tulane, all he had was 18 carries for 104 yds and a TD to go along with 9 receptions for 203 yds and 2 TDs in the Tigers' 47-17 victory. Nbd.
2. Shane Buechele, QB, SMU
Don't look now, but here come the Ponies! SMU is relishing it's re-emergence in the Top 25 poll for the first time in over 30 years. And QB Buechele is leading the way. He went 30-53 for 457 yds passing and 6 touchdowns in the Mustangs' 45-21 victory over Temple.
3. AJ "Sauce" Dillon, RB, Boston College
No QB Anthony Brown? No problem. Here's the plan: turn around and hand the ball off to #2 and let him run wild. And run wild he did. "Sauce" had 223 yds rushing and 3 touchdowns on 34 carries. The Eagles hammered NC State 45-24 and Dillon was a huge reason why.
4. Jalen Hurts, QB, Oklahoma
The Jalen Hurts Redemption Tour rolled on against West Virginia. The Heisman favorite was 16-17 for 316 yds and 3 touchdowns through the air. He added 75 yds and 2 touchdowns on 10 carries on the ground, as the Sooners blew out the Mountaineers 52-14.
5. Sam Ehlinger, QB, Texas
The Longhorns were supposed to blow out Kansas at home. It didn't quite pan out that way. In fact, if it weren't for QB Sam Ehlinger's stellar performance, they might not have even escaped with a victory. Ehlinger was 31-44 for 399 yards and 4 touchdowns. He also added 91 yds rushing on 14 carries, as the Longhorns squeezed by the Jayhawks 50-48.
6. Reggie Roberson Jr, WR, SMU
And here come more Ponies! Complimenting Shane Buechele's great game is Reggie Roberson Jr's great game. He had 8 receptions for 250 yds and 3 touchdowns in the Mustangs' victory.
7. Brenden Knox, RB, Marshall
Marshall pulled out a hard fought 36-31 conference victory over FAU and Knox was an integral reason why. The 220 lb sophomore racked up 23 carries for 220 yds and 2 touchdowns for the Thundering Herd.
8. Terrel Bernard, LB, Baylor
Raise your hand if you had Baylor at 7-0 at this point in the season. The Bears remained undefeated after going on the road and defeating conference foe Oklahoma St 45-27. LB Terrel Bernard was a big reason why. He had 9 tackles, .5 TFL, 1 fumble recovery, and 1 defensive touchdown to keep BU living that perfect life.
9. Breece Hall, RB, Iowa St
Breece Hall, the Cyclones running back, was a monster against Texas Tech. He tallied 256 total yards (183 rushing, 73 receiving) and punched in 2 touchdowns in ISU's 34-24 road victory over the Red Raiders. The Cyclones continue to push on, hoping to somehow make it to the Big 12 Championship Game.
10. Evan Weaver, LB, Cal
Against Oregon St, Evan Weaver was flying all over the field for the Golden Bears, per usual. He leads the nation in tackles, and had another monster game. Weaver racked up 21 tacks, including 2 sacks. Although it wasn't enough, as the Bears fell 21-17 to Oregon St, Weaver more than held up his end of the bargain.