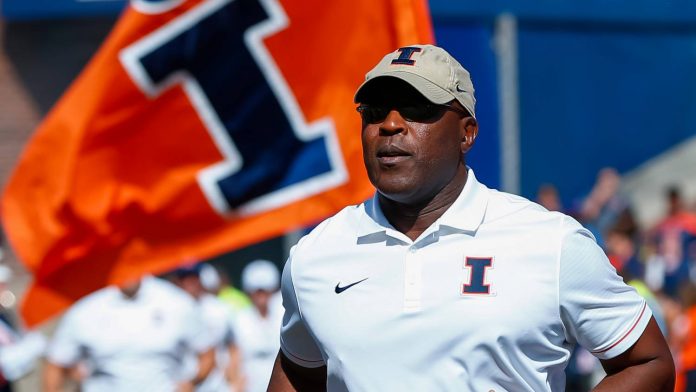 Broadcast Information
Date: October 6th, 2018
Game Time: 12:00 PM ET
Venue: HighPoint.com Stadium, Piscataway, NJ
Television Network: BTN
Illinois (2-2) vs. Rutgers (1-4)
This Saturday will pit two B1G teams searching for their first B1G win of the season. It has been a struggle for both of these programs to win with consistency over the last couple years. However, both are hoping that a win a Saturday could put an end to their respective misfortunes. These two teams met last year in Champaign, IL, where Rutgers won 35-24.
The Scarlett Knights come into this game having lost 4 of their 5 games this season (losses to Ohio State, Kansas, Buffalo, and Indiana). In those losses, Rutgers has only averaged 11.8 points per game and they have given up 43.3 points per game. This is obviously not a recipe for success. If they want to win on Saturday, major adjustments will have to be made.
The Fighting Illini are coming off a BYE week. They started 2-0 this season before dropping the last two games (losses against USF and Penn State) in disappointing fashion. In fact, both the aforementioned losses were decided in the 4th quarter. This leads many optimistic Illini fans to believe that the program is on the verge of being able to compete game in and game out against Top 25 opponents. That is a major step for this rebuilding program.
Why Rutgers Can Win
As bad as Rutgers has been over the last 4 weeks, they did show improvement against a solid Indiana team last week. Rutgers boasts a decently productive running game led by sophomore RB Raheem Blackshear. Head coach Chris Ash declared Blackshear the best player on the team. This season he has totalled 328 rushing yards on 63 attempts, caught 19 balls for 98 yards, and scored 3 TDs. Also, don't forget about surprise Rutgers' standout senior TE Jerome Washington. He has had a great start to the season totalling 11 receptions for 202 yards. This recent production comes as quite a surprise, as he only totalled 28 receptions for 282 yards and 1 TD a season ago.
The Rutgers defense hasn't been great this season. In fact, it has been one of the worst in the conference. This wasn't supposed to be the case, as many thought that this could be a Top 40 defense nationally. I think it still can be by the end of the season. There is clear and experienced talent all throughout the field. For starters, the secondary has proven talent with junior DB Damon Hayes and DB Blessuan Austin. Austin ranked ranked 4th in the B1G in passes defended last year. The defense also returns senior linebackers Trevor Morris and Deonte Roberts, who were a part of a very strong linebacker corp in 2017. If they all can realize their potential, they could find themselves with an upset victory over the Illini.
Why Illinois Can Win
Last game was a very difficult one to swallow for not only the Illini staff but the fans. Illinois trailed 28-24 against Penn State heading into the fourth quarter and ended up losing the game by a final score of 63-24 and gave up 500+ yards of offense. The question surrounding Illinois this year is can they put together a full game?
That's about all the negativity, on to the positive.
Illinois has been able to run the ball very well this year. The one two punch of sophomore RB Mike Epstein and junior RB Reggie Corbin has Illini fans wanting their team to run the ball at every given opportunity, especially since the two combined for 160 yards against Penn State. These two should have similar performances against Rutgers.
On defense, the Illini need to find ways to close the gaps and impact the opposition's running game. Illinois really struggled against Penn State's run game and that made it very easy to open the field up for the passing game. If the Illini want to win on Saturday, players such as sophomore linebacker Jake Hansen and junior linebacker Del'Shawn Phillips need to take a big step in their ability to stop the run.
What will happen
Good news for Illinois fans, 5th year QB AJ Bush is expected to play on Saturday. This means that the Illini will be adding another dimension to an otherwise pretty vanilla offense. As for Rutgers, it will be very interesting to see who starts under center. Their QB situation is one to pay attention to. Freshman QB Artur Sitkowski gives Rutgers the best chance to win and would not be surprised to see him start.
As for the game itself, it will be a relatively close first quarter with Rutgers having a narrow advantage at 14-7. Expect Illinois to bounce back by halftime and have a lead. Rutgers will fight back and try to make it a game. However, the Illini have an advantage in talent and it will show. Expect the Illini to come out with a comfortable victory.
Prediction
Illinois 34 Rutgers 20
Line: Illinois -5.5
o/u: 49.5