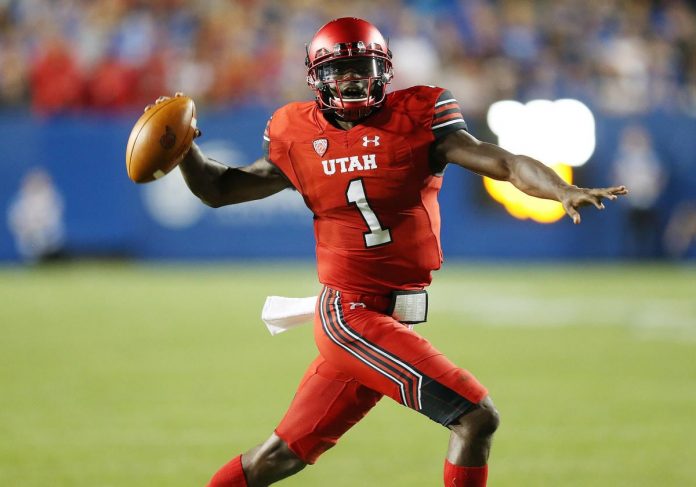 If you didn't get a chance to check out my PAC-12 North preview, check it out here.
The PAC-12 South might be under the radar a bit with Washington and Oregon getting all of the headlines. However, there is some major talent on that side of the conference. And one team that could make some real noise, nationally.
Currently, ESPN's FBS Preseason Rankings have five PAC-12 programs ranked in the top 25. They are #12 Washington, #13 Oregon, #15 Utah, #21 Washington State, and #23 Stanford. Let's break it down.
PAC-12 South Division
1. Utah Utes (11-1) overall; (8-1) conference
We're 85 days out, so why not update your wallpaper 🤷‍♂️#WallpaperWednesday pic.twitter.com/qGTCk2Y4ek

— Utah Football (@Utah_Football) June 5, 2019
There is a buzz in Salt Lake City. The Utah Utes won nine games for the second time in the past three seasons. Now, there is pressure on the Utes to take the next step and contend for a place in the College Football playoff. Dual-threat quarterback Tyler Huntley is back after a good season in which he recorded 2,092 total yards and 16 TDs in nine games. Huntley will be accompanied by standout running back Zach Moss, who will have a vital role of replicating his offensive production from a year ago.
The defense was tenacious a year ago. It ranked 5th in the nation against the run and 14th in the nation in total defense. And it only gave up about 316 yards and 19 points per game. The defensive line returns a large portion of its production led by pass rusher Bradlee Anae. With the addition of former Hawaii defensive lineman Viane Moala, this unit it primed to be one of the best in country. There are two key match-ups for Kyle Whittingham's program: at USC and home vs Washington. Show well in these games and the PAC-12's College Football playoff drought might finally be over.
WINS: @BYU, Northern Illinois, Idaho State, @USC, Washington State, @Oregon State, Arizona State, California, UCLA, @Arizona, and Colorado.
LOSSES: @Washington
2. USC Trojans (8-4) overall; (6-3) conference
FIRST LOOK: The 2019 USC Football schedule! #FightOn pic.twitter.com/o9HwYuqx5h

— USC Trojans (@USC_Athletics) December 4, 2018
Once one of college football's most dominant programs, the USC Trojans won only five games for the first time since 2000. Now head coach Clay Helton is on the hot seat. Quarterback JT Daniels is back after a rocky freshman season in which he threw for 2,672 yards and 14 TDs. At just 19 years of age, Daniels will be expected to show growth in Graham Harrell's first season as USC's offensive coordinator. And he will have plenty to work with from the likes of veteran receivers Michael Pittman Jr. and Tyler Vaughns, as well as versatile running back Stephan Carr.
The defensive side of the ball will rely heavily on the production of the Trojans' defensive line. Marlon Tuipulotu and Brandon Pili will need to get to the quarterback early and often if this defense is to be successful. USC's secondary, which was suspect last year, adds 4-star corner Chris Steele after his controversial summer. The Trojans could compete for the South division title. However, it remains to be seen if the turmoil around the program is too much for the players to overcome.
WINS: Fresno State, Stanford, @BYU, Arizona, @Colorado, @Arizona State, @California, and UCLA.
LOSSES: Utah, @Washington, @Notre Dame, and Oregon.
3. Arizona State Sun Devils (5-7) overall; (3-6) conference
Preseason All Pac-12 squad for @ASUFootball 😎😈 pic.twitter.com/GKte08luei

— Arizona State Sun Devils (@TheSunDevils) July 24, 2019
The Sun Devils are coming off of back-to-back seven win seasons. With the departure of quarterback Manny Wilkins, junior running back Eno Benjamin will be expected to carry the offense. Benjamin is an outstanding talent who totaled 1,905 yards and 18 TDs in 2019. The wild card in this offense is freshman quarterback Jayden Daniels. Daniels is expected to be slowly integrated into the first-team offense. He could have a huge impact should he take over the starting gig.
The defense needs to improve, and it will be difficult to after losing six starters. Sophomore linebacker Merlin Robertson will hold the responsibility of quarterbacking the defense. Robertson led the Sun Devils with 48 tackles last year. Overall, this is a young program that just might need another year of experience before taking the PAC-12 by storm.
WINS: Kent State, Sacramento State, Colorado, @Oregon State, and Arizona.
LOSSES: @Michigan State, @California, Washington State, @Utah, @UCLA, USC, and Oregon.
3. Colorado Buffaloes (5-7) overall; (3-6) conference
🚨 SPRING AWARD WINNERS 🚨

The Dan Stavely Award for the most improved offensive receiver (WR or TE) goes to Laviska Shenault.#GoBuffs pic.twitter.com/f661BO4oiN

— Colorado Buffaloes Football (@CUBuffsFootball) March 17, 2018
The Colorado Buffaloes will be a different team under first year head coach Mel Tucker. Before landing the job, Tucker was under the tutelage of Nick Saban (Michigan State, LSU, and Alabama), Jim Tressel (Ohio State), and Kirby Smart (Georgia). So it's safe to say he could be a monster hire. To make things better, the dynamic duo of quarterback Steven Montez and receiver Laviska Shenault return. Shenault was the beneficiary of great quarterback play last year recording four straight 100+ yard receiving games to open the season.
The defensive side of the ball is more of a question. First year defensive coordinator Tyson Summers follows Tucker from their time at Georgia. Summers' rebuild will be difficult as the defense lost the bulk of its starters. The defensive production will fall on veterans, linebacker Nate Landman and defensive back Davion Taylor. Both were top tacklers for the unit a year ago with 123 and 75 tackles, respectively. It could be a long year in Boulder, if those two have an off year.
WINS: Colorado State, Air Force, Arizona, @UCLA, and Stanford.
LOSSES: Nebraska, @Arizona State, @Oregon, @Washington State, USC, Washington, and @Utah.
3. UCLA Bruins (5-7) overall; (3-6) conference
Get ready. The 2019 football schedule is here!

🎟: https://t.co/yoaXYj0oO0#GoBruins pic.twitter.com/RNy3HIFdq0

— UCLA Football (@UCLAFootball) December 4, 2018
Once thought of as a brilliant offensive mind in the world of college football, Chip Kelly's offense left Bruins fans wanting more last year. The offense only managed to score 24.6 points per game under the second year head coach, and continues to have one of the worst offensive lines in the PAC-12 Conference. Thankfully, Kelly has pieces that could help point his program in the right direction. Dual-threat quarterback Dorian Thompson-Robinson will have a chance to play his first full season as QB1, after showing glimpses of promise last season. The offense also brings back one of the more underrated running backs in the country, Joshua Kelley. Kelley was one of the bright spots of the Bruins offense, rushing for 1,243 yards and 12 TDs.
UCLA's defensive capabilities goes as far as their veterans take them. They return three of their top six tacklers as well as a leader on and off the field in linebacker Josh Woods. Woods missed the entire 2018 season after tearing ligaments in his knee during training camp. Woods understands the privilege of playing Power-5 football, and he could help this program move in the right direction.
WINS: @Cincinnati, San Diego State, Oregon State, Arizona State, and California.
LOSSES: Oklahoma, @Washington State, @Arizona, @Stanford, Colorado, @Utah, and @USC.
6. Arizona Wildcats (5-7) overall; (2-7) conference
🗓️ | 𝟐𝟎𝟏𝟗 𝐅𝐨𝐨𝐭𝐛𝐚𝐥𝐥 𝐒𝐜𝐡𝐞𝐝𝐮𝐥𝐞

The football schedule is here! Which game are you circling? pic.twitter.com/JQX0ciiV4t

— Arizona Athletics (@AZATHLETICS) December 4, 2018
The Arizona Wildcats are a program that is very difficult to figure out. They have a relatively high floor and an even higher ceiling. Look for running back JJ Taylor to be the catalyst of the offense after rushing for 1,434 yards and 6 TD's. Taylor is also capable of making some plays in the return game. As for the receiving corps, it will need quarterback Khalil Tate to galvanize its' production. During the 2017 season, Tate was in the Heisman race after totaling 3,002 yards and 26 TDs. His rushing production dropped significantly in 2018, while his passing yards increased. So it remains to be seen which Khalil Tate shows up this year.
The defensive unit was extremely young last year and it should take a major leap. Linebacker Colin Schooler will lead the defense after recording a team high 119 tackles last year. With all six leading tacklers back for the Wildcats defense, it will be an experienced group for defensive coordinator Jeff Casteel. The only thing holding the Wildcats back from challenging for the South division title is the schedule. This is why Wildcats fans will have to wait another year before the program really becomes contenders.
WINS: @Hawaii, Northern Arizona, Texas Tech, UCLA, and Oregon State.
LOSSES: @Colorado, Washington, @USC, @Stanford, @Oregon, Utah, and @Arizona State.
PAC-12 Championship Game
The Oregon Ducks will come out of the North division and play the Utah Utes in the PAC-12 Championship Game. Both programs will be riding the momentum heading into this match-up. Barring any significant injuries to either program, the Utes will be the more talented and more experienced roster. And should be ready to step up to the challenge. But in the words of Lee Corso, "Not so fast!". Justin Herbert is one of the best quarterbacks in the country. And I expect him to have one of his best games of the season.
Prediction: Oregon (31 – 20) Utah
For more insight on the 2019 College Football season, follow me on Twitter @asethi03.