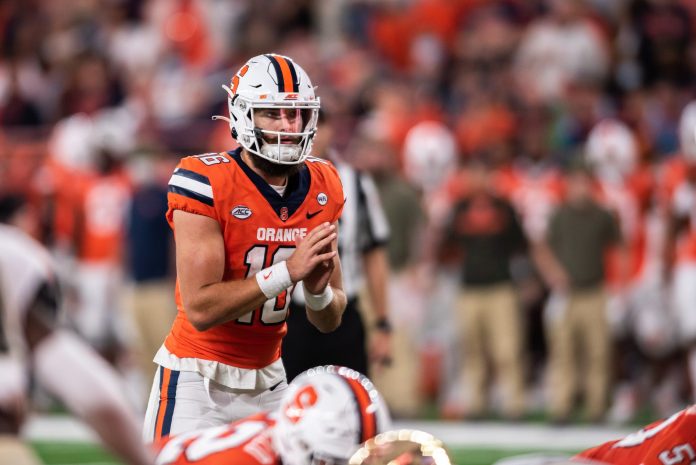 Before we make our way south, let's check out what's going on in the newly named JMA Wireless Dome. Dino Babers returns for his seventh year as the head man for Syracuse, hoping to get his team over that 6-win hump. Here are some of the spring storylines:
It's only a matter of time before the quarterback room gets much, much better
During the offseason, Syracuse brought two new faces over from Virginia's prolific offensive room. Robert Anae, a man who has had success but also has his cons, will be taking over as the offensive coordinator. But what will truly loom large is the addition of Jason Beck, one of the best quarterback coaches in the nation.
Beck has been successful with all sorts of single callers. Back at BYU, Beck helped develop Taysom Hill. Then, at UVA, he turned ECU-transfer Kurt Benkert into an NFL product, JUCO-transfer Bryce Perkins into a superstar, and former three-star recruit Brennan Armstrong into the leading passer in power five football last season.
Over at Syracuse, Beck already has made his mark by flipping LaNorris Sellers, their highest rated quarterback commitment in six years. This year's Syracuse starter is slated to be Garrett Shrader once again. Don't expect him to turn into all-conference talent, but I'd be surprised if he doesn't at least improve as a passer.
A rising star in this profession that has had tremendous success as an OC and QB coach already is Coach Jason Beck. Would hate to lose him.

— Benjamin Criddle (@CriddleBenjamin) December 6, 2015
I am pleased to announce that Sean Tucker returns

One thing is clear: Sean Tucker completely dominated the ACC last year as a rusher.
| | | |
| --- | --- | --- |
| Stat | Sean Tucker | Second Place in the ACC |
| Rushing yards | 1515 | 1249 (Mateo Durant) |
| YAC/Rush | 4.11 | 3.39 (Ty Chandler) |
| Missed Tackles Forced | 66 | 48 (Zonovan Knight) |
| 15+ Yard Rushes | 14 | 9 (Ty Chandler) |
Some of this is because of volume. However, his 6.1 yards per carry was sixth in power five football. In a way, that's even more impressive considering Sean Tucker was virtually the only consistent threat in the Syracuse offense. In 2022, expect much of the same.
We must consider that last year, it was rare to see a Virginia running back eclipse a handful of carries in a game under Anae. But although a certain infamous play call may indicate otherwise, the man is not stupid. He has his job for a reason. Yes, expect more balance, but Anae will undoubtedly feed the rock to his best playmaker throughout the game.
Sean Tucker's footwork and body control are incredible pic.twitter.com/qBw72ZADX1

— Dan Siegel (ACC Content) (@ACContent__) September 22, 2021
The defense will continue to be a solid unit under Tony White
We saw plenty of tough stretches with the Syracuse defense last season but they ended up finishing towards the middle of the pack in efficiency rating (Football Outsiders). Expect similar results this upcoming season.
The defensive line is going to be very inexperienced, following the departures of Josh Black, McKinley Williams, Kingsley Jonathon, and Cody Roscoe. What we do know about defensive coordinator Tony White is that he is a creative and aggressive blitzer. Mikel Jones in particular is a versatile linebacker who may be relied upon to get into the backfield this season.
As far as the defensive backs are concerned, expect the cornerbacks to be the strongest aspect of that side of the ball. Duce Chestnut showed tons of flash as a true freshman last season, and Garrett Williams is a quality veteran on the other side. In an ACC full of capable quarterbacks, Syracuse finished 34th last season in passing yards allowed per game.
Perhaps the most impressive part of Syracuse's win on Friday night was containing Malik Willis and sacking him SIX times.

They have a deceptive way of bluffing blitzes back and forth with LB and S in the box, leaving QB spies as reinforcement.

Cody Roscoe and that DL are legit. pic.twitter.com/bSofCnr264

— Dan Siegel (ACC Content) (@ACContent__) September 27, 2021
In case you missed it:
Up Next: Louisville